Bulldogs nearly sweep Vikings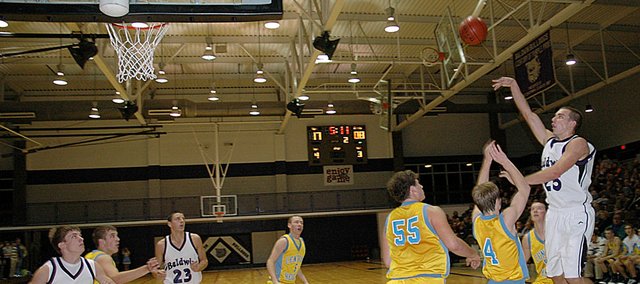 Baldwin High School nearly swept the Vikings back to Central Heights Friday night as the Bulldogs won five of the six basketball games.
In the varsity boys' game, Baldwin outscored Central Heights 18-2 in the third quarter Friday en route to a 52-31 victory. The Bulldogs take a 4-1 record into the winter break.
BHS was led by seniors Brandon Tommer and Clad Kueffer. Tommer scored 15 while Kueffer added 11 to the win.
Tracie Weege scored a game-high 17 points to lead the BHS girls' varsity team (4-1) to a 32-24 victory over the Vikings. The BHS senior drained a trio of three-pointers in the second half, where she scored 15 of Baldwin's 21 second-half points.
The junior varsity girls' team defeated the Vikings 37-19. BHS ended the game with a 13-0 run. Junior Taylor Brown scored 13 while sophomore Myranda Behrens added 10 points.
The BHS JV boys' squad crushed Central Heights, winning 65-30. Junior Camdon Schwartz scored a game-high 24 points. Sophomore Josh Hoffman added 11, while junior Brandon Kraus scored 10 points.
In freshman action, the BHS girls' team crusied to a 36-5 win. BHS led the Vikings scoreless in two quarters.
The BHS freshman boys' team was the only Bulldogs' squad to lose Friday. The Vikings won that game 50-38, although BHS led 36-33 in the fourth quarter.
All six BHS teams will regain action on Jan. 9 at home against rival Eudora.