Good news for district's bond plans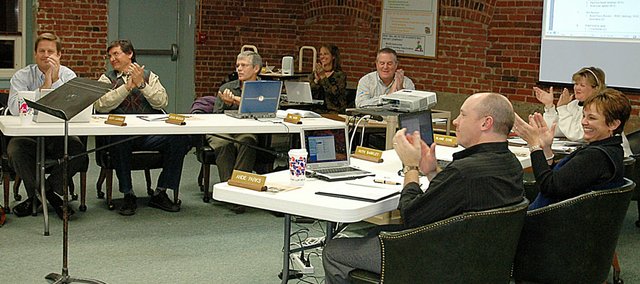 Despite a tough economic market, John McArthur was able to get the Baldwin School District's first portion of bonds off on the right foot.
McArthur, district financial advisor, sold $10 million of the $22.9 million bond issue at a 5 percent interest rate. He also had better luck selling the bonds than Baldwin's neighbor, Eudora, had on its attempt to sell a portion of its $45 million bond issue that passed in November 2007.
"Right now, what is selling well is bonds that are bank-qualified, which means they are $10 million or less," McArthur said. "If you try to sell over $10 million, it cuts down on a large group of potential buyers. Here in Baldwin, we were lucky Baldwin State Bank bought a large number of the bonds, which shows good local support.
"We ran into good market conditions and good local support," he said. "So we were able to get ours at a low interest rate."
In fact, that 5 percent interest rate will save district taxpayers money over the long haul, according to McArthur. He projected a 5.15 percent interest rate on the information he provided to the public last June when the $22.9 million number was finalized.
"We did well," McArthur said. "It amounts to about a $200,000 savings for taxpayers. I'm very pleased, very tickled. I'm very glad to get those bonds sold at that interest rate."
He wasn't the only happy one when he announced the good news Tuesday morning at the special school board meeting. Supt. Paul Dorathy was thrilled to get the first large portion sold and save patrons' money.
"We're pleased that our first bonds were sold," Dorathy said. "We're also happy that we got a good interest rate that ended up being lower than what we had informed the public. I think that's a good thing for the taxpayers. It should save the taxpayers a couple of hundred thousand dollars over time. So we're very pleased this morning."
The school board met at 8 a.m. Tuesday for the brief meeting. The only item on the agenda was the resolution to sell the bonds. School Board President Alison Bauer was excited to keep the bond issue process moving.
"We received excellent news this morning," Bauer said. "With the financial market the way it is, I didn't know if we'd be able to sell our bonds and at such a favorable interest rate. I was very happy to hear the news. This is the first step in going forward with our plans to build for the future."
Bauer thanked McArthur for his hard work to sell the bonds. He replied, telling her the district office staff helped him work through the process.
"Cynde (Frick), Laura (Morford) and Paul were very helpful," McArthur said. "If you don't have a staff that works with you, it can be miserable to get everything done. Luckily, you have a good staff. Be proud of them."
During the meeting, Board Member Ande Parks brought up the topic of the state's 27 percent aid. There have been rumors the state Legislature might cut some of its education funding this year. Parks said the district shouldn't lose the state's portion of the bond issue funding. Dorathy agreed with Parks.
"Each time we sell the bonds, we lock in that 27 percent state aid," Dorathy said. "That's important that we've locked that in and if the state doesn't come in and consider changing that.
"The Legislature could consider changing the law," he said. "That would create an extreme hardship for taxpayers in the state of Kansas for school districts that have already passed bonds. It would significantly hurt local taxpayers across the state. I am doubtful that they will go that direction."
The final topic of the meeting was when the district might sell the other $12.9 million in bonds. The original plan was to begin selling them in a year, but McArthur said he might look to sell them soon after the first of the new year.
"We might look to do that, simply because we have good rates now and the future is uncertain," McArthur said. "It would be better to lock in a low interest rate as soon as we can."
Dorathy agreed.
"John, you've just got to tell us if the market is right and we need to do it," he said. "Then you go out there and get it done for us."