Bulldogs rebound to win first road contest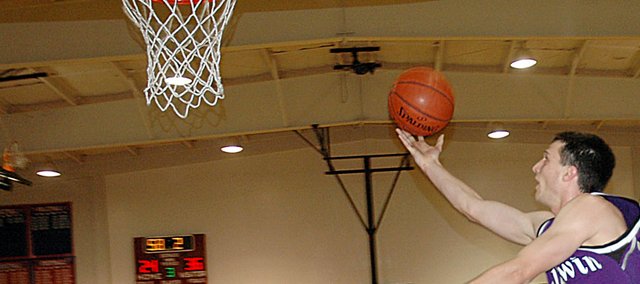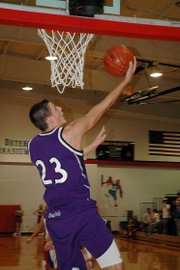 WELLSVILLE — A 12-0 third-quarter run was all of the separation the Baldwin High School boys' basketball team needed here Tuesday.
That spurt was enough cushion for the Bulldogs, who won their first road game of the season. The Bulldogs (3-1) beat the Wellsville Eagles 48-35 after playing their first three contests at home last week.
"I thought we played better tonight." coach Eric Toot said. "We had a lot of good shots. We're still struggling to put the ball in the hole consistently. I think that will come and the kids will get more confident in their shooting."
A pair of Wellsville free throws closed Baldwin's lead to 24-22 midway through the third quarter. Two minutes later, Baldwin's lead jumped to 14 points, 36-22.
Contributing points during the run were junior Camdon Schwartz, senior Sam Beecher, senior Brandon Tommer and senior Logan Schiller. Beecher and Tommer each hit a pair of threes during the spurt.
That 12-0 run gave BHS enough momentum that it carried it through the final 10 minutes of action. Wellsville cut the lead to six points once, but that was as close as it would get.
"We came out and guarded a little bit harder in the second half," Toot said. "We played a little smarter and were able to get a nice little run going. That was nice to see. We're just really grinding it out and struggling right now as a basketball team. Hopefully, that will help us get over the hump, because we had some good spurts tonight."
Beecher said the Bulldogs displayed their potential during parts of the second half Tuesday.
"This was a good win," Beecher said. "Coach Toot said this game was going to show him a lot about this season. We didn't come out that good in the first half, but in the second half we showed what type of team we could be in spurts. We came out with a lot of energy in the second half. Josh Hoffman stepped up and got a couple of big boards and points off the bench."
Hoffman, a sophomore, gave BHS a spark during the final quarter. He scored five points, grabbed a few rebounds and had an assist to help BHS pull away from the Eagles once again.
Toot said Hoffman was one of several players to come off the bench and contribute Tuesday.
"We had a couple of guys come off the bench that were great tonight," Toot said. "I thought Camdon played really good in the second quarter. I also thought Josh played solid the whole time he was in there. He really changed the game for us. Logan came off the bench tonight and was very good.
"Jared (McCall) is doing some really good things," he said. "I'm proud of Jared and proud of how he is playing. He's going to help us this year, which is a nice surprise."
Tommer led the Bulldogs in scoring, with 16 points. Beecher also scored in double digits, adding 11 to the win. Beecher said the Bulldogs showed some toughness by rebounding from Saturday's loss at home Louisburg. He knows they will have to play hard Friday, too.
"Saturday was a really tough loss," Beecher said. "That's a team we know we should have beaten. We came back and got a tough win tonight. We've also got a tough game Friday that will show what kind of character we have because they play tough."
Baldwin will host Central Heights Friday at home. The first games begin at 4:30 p.m. with the varsity girls starting at 7:30 p.m.
"I love playing in front of the home crowd," Beecher said. "We had a good crowd here tonight even though it was snowy. We love playing in front of the home crowd, though. They really get us into it."