BHS

girls squeeze out victory over Eagles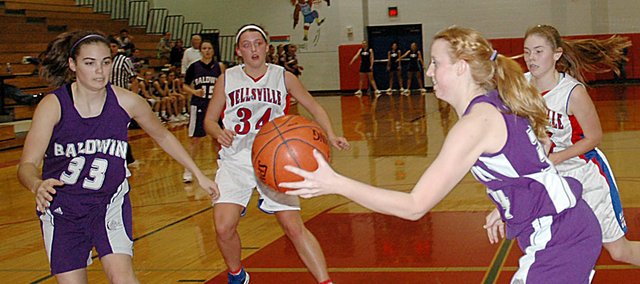 WELLSVILLE — Late free throws woes here Tuesday nearly cost the Baldwin High School girls' basketball team its first road victory.
Despite missing five of their final six attempts from the charity stripe, the Bulldogs squeezed out a victory over the Eagles, 44-41. The Bulldogs (3-1) won their first game away from home against the former Frontier League foe.
"We were disappointed with how we played, because it was kind of a sloppy game," BHS senior Calleigh Durr said. "A win is a win, though. We're happy we got that one out of the way, because playing here is always tough."
The Bulldogs carried a 37-28 lead into the fourth quarter, but the Eagles quickly closed the gap. Wellsville scored a pair of buckets in the first minute, before BHS senior Tracie Weege converted a layup.
Then the Eagles went on a 7-2 spurt in the next three minutes to cut Baldwin's lead to two points, 41-39. Both teams exchanged baskets as BHS still led by two with 1:51 remaining in the contest.
During the final 45 seconds, the Bulldogs struggled to make free throws to ice the contest. Weege missed the front end of a one-and-one, but grabbed the offensive rebound. Then Durr missed her two foul shots, but the rebound was grabbed by fellow senior Clare Miles.
Miles converted one of her two charity shots to give BHS a three-point lead with 8 seconds left in the game. The Eagles tossed up one last shot, but it fell short.
"It was a hard fought win, that's for sure," Miles said. "It was our first game on the road, so it was nice to get that win under our belt."
Both Miles and Durr were happy the Bulldogs won Tuesday's contest, after losing their first game of the season on Saturday.
"After Saturday, we were a little down on ourselves, but we're still optimistic about the season," Durr said. "We were a little sluggish today at first, but we picked it up. We got the win and that's the important thing."
Miles said the team did improve on Saturday's mistakes during practice Monday, but, unfortunately, some of their shots just aren't going as they wished.
"We learned from Saturday and got better in practice," Miles said. "Our shots just aren't falling right now and that's making it difficult. We know that they're going to fall sooner or later. Right now, we're just trying to be in the right place at the right time. We just hope they start falling soon."
Baldwin sank a few shots at crucial times Tuesday. Durr led the Bulldogs with a career-high 13 points. Junior Connor Twombly added nine to the win. Durr said the road game was tough after starting the season with a trio of home contests.
"It was a bit different and they had a big crowd that was energizing them," she said. "It was difficult, but it was nice to get our first road win out of the way."
Baldwin will host Central Heights Friday at home. The first games begin at 4:30 p.m. with the varsity girls starting at 6 p.m.
"We're hoping we can come out Friday and make a statement," Durr said. "We'd like to get a really nice win before we come back and play some really tough teams after break."