Brown encourages graduates to take chances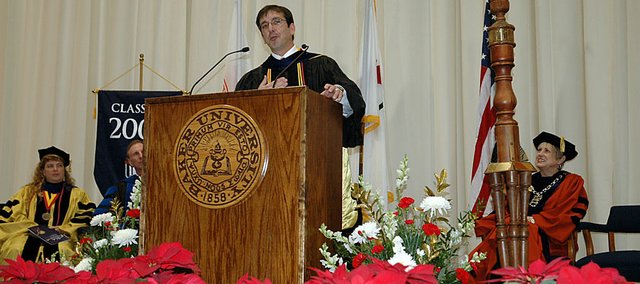 As winter winds whistled outside Sunday, long-time Baker University professor Tony Brown encouraged the 230 graduates assembled in the Collins Center to set sail into the future.
"So this is my hope for each of you," Brown said in his graduation keynote address. "As you throw off these college bowlines, as you sail away from the safe harbor of Baker University, let your sails catch the trade winds that seem to always be blowing across the Kansas plains.
"Explore boldly. Dream big. Discover your future," he said. "Godspeed to you, Class of 2008."
Brown, who retired from Baker and successfully ran for the 10th District House of Representatives position in the fall, spoke to graduates of the College of Arts and Sciences, School of Professional and Graduate Studies, School of Nursing and School of Education. They represented the Baldwin City, Kansas City and Wichita campuses.
He told the graduates the point of his address was simple.
"Twenty years from now you will be more disappointed by the things you didn't do than the ones you did do," Brown said, adding a quote from Mark Twain. "So throw off the bowlines. Sail away from the safe harbor. Catch the trade winds in your sails. Explore. Dream. Discover.
"But this is dangerous stuff — being bold, taking chances, living on the edge between danger and safety," he said. "We don't hear this advice often, especially in tough times like we are currently experiencing. How do we pull this off? Here are three suggestions."
He told the graduates to seek out people who frustrate you. Secondly, to seek out people who humble you. Third was to seek out people who see the world differently.
He gave examples on all three and drew the most laughter regarding people who humble you. He used his 13-year-old daughter Halley as the humbling example, noting that she alternates between thinking her parents are idiots and asking them for money.
"Even at her young age — or perhaps because of it — Halley puts me in my place," said Brown. "She whips me at 'Scrabble' and 'Guitar Hero' with equal ease. She seems to have more savvy at 13 years than I remember having at … ever.
"But mostly, in a hundred little ways, Halley reminds me that no matter how many nice things you say about me or how many elections I win, I am still just the third smartest member of our family. And our cats are challenging me for that position," he said.
As for seeking people who see the world differently, he used Greg Rogers, a blind Baker student who was part of Sunday's graduating class.
"Greg has taught me how visually dominant I am in my own teaching when I would need to explain to him what images we were looking at in class," said Brown. "Greg has reminded me of the importance of our other senses when he knows how dressed up I am by simply touching my shirtsleeve or recognizes the presence of another person by the slight shuffle of a chair.
"And I smile every time Greg bids goodbye to someone with the phrase, 'It was good to see you,'" he said.
Sunday's commencement was third of the weekend at the Collins Center. There were two graduations Saturday for School of Professional and Graduate Studies graduate students and the School of Education graduate degree students.