Senior duo preserves Bulldogs' victory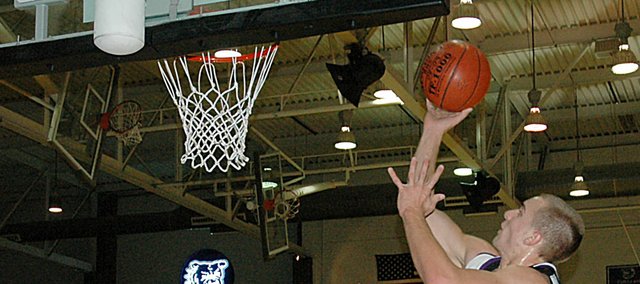 Brandon Tommer and Clad Kueffer made sure their season opener wasn't a loss.
With a pair of future starters inactive for Tuesday's game, Tommer and Kueffer took over the fourth quarter. The two Baldwin High School seniors combined to score all 15 points in the final eight minutes.
They led the BHS boys' basketball team to a 51-46 victory over Anderson County. Baldwin (1-0) won the battle of the Bulldogs to begin the Bulldog-Wildcat Classic, which it's hosting this week.
"The most important thing is to get a win," Kueffer said. "We didn't want to have a let down to start our season."
Kueffer scored six of his 19 points in the final quarter to secure the win. His counterpart sank five free throws as he scored nine of his 21 in the fourth quarter.
"I'm really glad we came out, played hard and won," Tommer said. "It was nice to get the jitters out and play a tough game. I was pretty nervous, but glad to come out and finally play."
Baldwin played Tuesday's contest without 6-foot-8 sophomore Justin Vander Tuig, who's been ill this week. BHS will also be playing its next five games without junior Zach Wright. He isn't eligible to play until the Jan. 16 contest at Paola because he transferred from nearby Wellsville.
Coach Eric Toot was forced to adjust his lineup Tuesday. Tommer, who normally plays a small forward, became one of Baldwin's post players, along with Kueffer.
"We've had to change some things around," Toot said. "These kids want to do whatever it takes to be successful. We've had a lot of kids that haven't ever played varsity come in tonight.
"This was a good learning experience for us," he said. "We played in a close game early in the season and made some plays down the stretch. Hopefully, we can carry that into the rest of the year, because the schedule that we play will have a lot of close games."
Baldwin never relinquished its lead during the game's final nine minutes. Anderson County hit a three-pointer late in the third quarter to grab a 31-29 lead. Tommer and Kueffer followed with baskets and a free throw to steal the lead back with 1:20 remaining in the quarter.
Anderson County pulled within a single point midway through the fourth quarter with two quick baskets and steals. However, once again, BHS would weather the storm.
Baldwin scored the next five points. Anderson County's only goal in the final 3:42 would be a three-pointer with 8 seconds left.
"Offensively, we were pretty good and I think we did some nice things," Kueffer said. "Defensively, we've got to get a lot better. We've got to get in better shape and get back on defense."
Despite giving up numerous offensive rebounds, Toot was pleased with Baldwin's defense before Anderson County shot its first attempt each possession.
"I thought our first-shot defense was really good," Toot said. "Then we didn't rebound very well. I'll have to watch the film to really grade our defense. But when you hold a team to 46 and give up about 15 offensive boards, I'm guessing our first-shot defense was pretty strong."
Offensively, Baldwin was facing a zone defense by Anderson County. BHS had small stretches of the game where it went scoreless, but Tommer said the team corrected its problems.
"We started finding open gaps in the zone and making shots," Tommer said. "We also stopped settling for jumpers and got to the hoop."
Baldwin will play Burlington at 7 p.m. Friday and Louisburg at 6:30 p.m. Saturday. Both games are in the Baldwin Junior High School gymnasium.
"I'm really happy we start at home," Tommer said. "I'm ready for the weekend."
Baldwin will also play at 8 p.m. Tuesday in Wellsville.
"One, we need to get healthy," Toot said. "We've also just got to get a little more in sync in what we are doing. We've got some new guys this year, especially coming off the bench."