Ruhlen property may change district's plans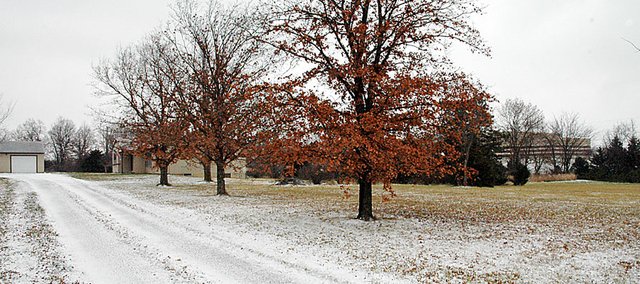 There's been a curveball thrown at building new baseball and softball fields in the school district. But sometimes breaking pitches are a good thing.
Supt. Paul Dorathy told Baldwin School Board members at Monday's meeting that a parcel of land near Baldwin High School purchased in 2000 is available. It's the Ralph Ruhlen property just north of the junior varsity/freshman football field.
"I wanted to update the board that the family has turned over the keys," said Dorathy. We are working on it. One of the things we're considering with the bond issue is where the ball fields would fit. We did not know we would have the Ruhlen property.
"Before we start throwing concrete down out there (Baldwin Elementary School Intermediate Center), we need to analyze what's going to work," he said.
Under the recently approved $22.9 million bond issue, four new baseball and softball fields would have been built near BESIC. A practice track is also to be built.
However, Dorathy told the board, it might make more sense to build them near BHS for several reasons. The school district bought the Ruhlen property for $200,000 and the final payment will be made in 2011. It totals 9.3 acres and also abuts the present ball fields to the east.
He said the DLR Group architects will look over the Ruhlen property to determine if it makes more sense to build the ball fields there. It might also change plans for the new Baldwin Elementary School Primary Center which was approved in the bond issue.
"They are going to look at it and see if that will work," he said. "They're examining about moving it over there. The ball fields would be next to the high school. There are some things there that make sense.
"Moving the elementary school to where the ball fields are in the plans would cut the costs down," said Dorathy. "Putting the schools together there would be some cost sharing."
He mentioned one cost that would be cut is installing sewer line to where the new BESPC was going to be located.
The Ruhlen property includes a house that he lived in for years, prior to his recent move to Vintage Park, Dorathy said.
"Before we decide anything about it, I would like to contact someone to see about buying the house and moving it," he said. "The family also has some concerns. They said, 'If you would do that, we would love to be able to come back to the community and see the house even, it's 20 miles from there.'"
Board Member Ruth Barkley asked if the house could be used for office space for the district. Dorathy said he didn't think that would work. The board gave its consensus to check on selling the house, as well as possibly making changes in the plans for the bond issue.