BHS

wrestlers place well at opening meet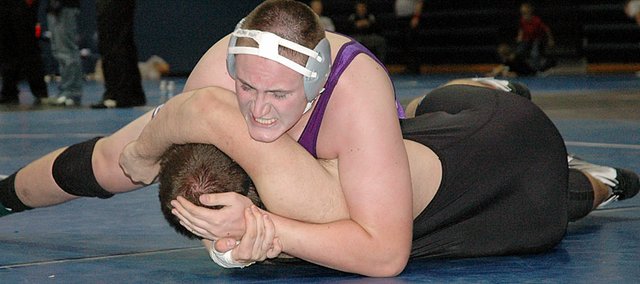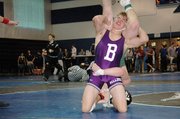 The Baldwin High School wrestlers had a strong start to their season at the Gardner-Edgerton Invitational on Saturday.
They competed against 15 schools (13 of which were Class 5A and 6A schools) with Baldwin placing fifth. Three wrestlers made the finals and senior Alan Callahan (112 pounds) won gold.
"I think the team did very superb, and everyone wrestled their best," freshman Andrew Morgan said.
Overall, Baldwin had one first, two second, one third, one fifth and one sixth in the medal round. In this meet, every Bulldog recorded at least one win, contributing to the team total of 130 points.
"It was a great team effort," coach Kit Harris said. "I couldn't have been more proud of the group. We've had a lot of adversity this season and I was really unsure how we would do. But to finish fifth in this tough tournament is a sign of what we can do this year if we keep working hard. I am proud to be coaching these guys."
In addition to Callahan's gold, juniors Josh Hanson (130 lbs.) and Heath Parmley (160 lbs.) finished second. Morgan (103 lbs.) was third in his first high school competition.
Placing fifth was senior Nick Barkley (189 lbs.) and senior Andy Thurlow (135 lbs.) was sixth.
Also competing and winning matches for the Bulldogs were sophomores Colby Soden (119 lbs.), Greg Schiffelbein (152 lbs.), Jesse Austin (285 lbs.), and freshman Colton Bonner (215 lbs.).
The next varsity meet will take place at the Eudora Invitational on Friday. The competition will begin at 1:30 p.m., and continue at 9 a.m. Saturday. The action will take place at Eudora High School all weekend.
Three Bulldogs competed at the Emporia Junior Varsity Tournament last weekend. Freshman Alex Alsup (125 lbs.) and freshman Cody Sellers (103 lbs.) each took home a silver medal. Junior Jake Abram (135 lbs.) went 1-2.
The next JV tournament will be Saturday at the Shawnee Heights JV tournament. It will begin at 9 a.m. The wrestling meet will be taking place in Topeka this weekend.