BHS

girls overcome sloppy start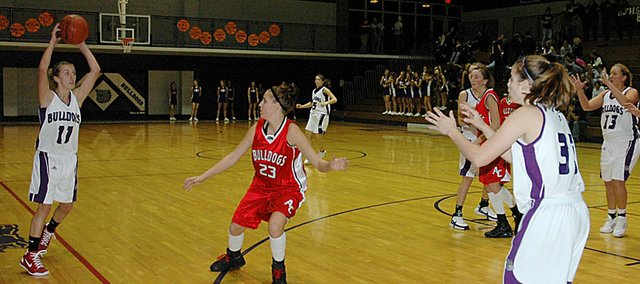 Missed layups, missed free throws and turnovers plagued the Baldwin High School girls' basketball team during the first quarter of its season opener Tuesday night.
Despite the lackluster opening moments of action, BHS neither trailed nor led after the first eight minutes. It was deadlocked with Anderson County — 4-4.
Fast forward 24 minutes and the BHS girls cruised to their season-opening win. BHS beat Anderson County 45-30 in its first game of the Bulldog-Wildcat Classic.
"It feels great to win our first game," senior Clare Miles said. "I thought we played really well. We transitioned really well tonight and ran the floor. In the first half we missed a lot of layups, but that's going to happen in the first game. We were all really nervous tonight, but hopefully we got our jitters out of the way tonight."
Baldwin missed a handful of shots from the paint early in the game. BHS only sank two of six free throws in the first quarter, but it made 12 of the remaining 18 for the game.
Coach Bob Martin credited first-game jitters and nervousness to the poor start Tuesday.
"It's really nice to get that win," Martin said. "The girls have been working so long. They were all pretty nervous and excited. They played that way in the first half, but settled down and played well in the second half."
It might have been nerves bothering the BHS players or it could have been emotions. The Bulldogs lost a former teammate and friend Friday morning when 2008 BHS graduate Alex Bergan died in the Coffeyville Regional Medical Center.
Bergan played basketball for three years at BHS. She was also a volleyball teammate to several of the current basketball players. Friday's news and Monday's funeral made concentrating on Tuesday's game a bit difficult.
"Friday's practice was really hard," Martin said. "Then we had a pretty good practice on Saturday. Monday wasn't so good, but that was the day of the funeral. I don't know how much of that factored into it, but a lot of them were pretty upset on Friday.
"I did try to tell them Friday that being out on the court and doing something was good to keep their minds off everything else," he said. "The court was their sanctuary away from other things. I hoped this helped a little bit, because it's been hard on many of them."
Although her emotions have been elsewhere since Friday, BHS senior Alex Zordel said Tuesday's game did help clear her mind of Alex's tragic death.
"It helped take my mind off of things and allowed me to think about something else for a while," Zordel said. "I tried to concentrate on other things tonight. Fortunately, the funeral wasn't today. We got most of our emotions out yesterday, so it wasn't as bad as it could have been tonight."
Despite the tragedy, the Bulldogs still took the court Tuesday night and took care of business to begin its season with a victory. Zordel was the only BHS player in double figures as she scored 10 points. Miles put up nine as eight BHS players scored in the victory.
"Oh yeah, it's definitely nice to win," Zordel said. "I thought we played well. We got out and ran, we had a lot of steals and we were running well. It was a good game."
Much like the past few BHS girls' teams, this year's squad used its tenacious defense to create fast-break opportunities on the offensive side.
"We were kind of a smaller team, so we always want to run," Miles said. "We are a quick team and we're able to get up and down the floor well.
"Our defense definitely helps create some of our offense," she said. "Our defense is solid. It just always is. I can't explain why, but we work on it a lot in practice. Defense is the best part of our game. It helped us in the first half when we were missing easy shots."
Baldwin will continue the Bulldog-Wildcat Classic this weekend. BHS will play Burlington at 8:30 p.m. Friday and Louisburg at 5 p.m. Saturday.
"I'm very excited," Zordel said. "I can't wait to play again. All of us have been ready to play. We're just excited to keep playing and, hopefully, keep winning."