Bergan's death sends shock through fellow
BHS

graduates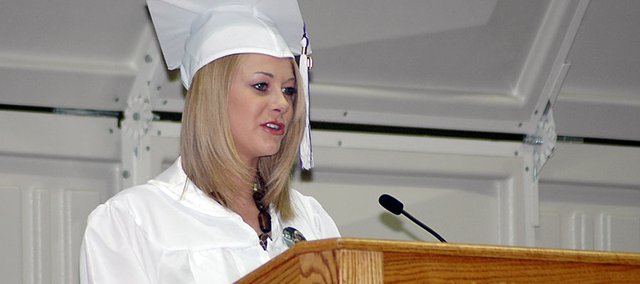 Maybe it was the countless times they changed her hair or sang in the car as they drove around or perhaps it was their trips to El Mezcal just to eat cheese dip.
Maybe those are only a few of the memories Kelsey Mallon will carry with her about the time she spent with one of her best friends. Her memories, along with friends' and families', of Alex Bergan will have to remain memories after Bergan's tragic passing Friday morning.
"I can't even describe how much I will miss her," Mallon said. "I will think about her always. I know she is in a better place, but I wish she could just come back to us all. All I can say is that I miss her so, so, so much."
Both girls graduated from Baldwin High School in May, but took different paths to college. Mallon stayed in Baldwin City to attend Johnson County Community College, while Bergan headed south to play volleyball for Coffeyville Community College.
The pair met in seventh grade when Bergan moved to Baldwin. According to Mallon, they instantly became friends, but it wasn't until high school when their bond grew stronger.
"For all that knew Alex, I'm sure they knew we were inseparable," Mallon said. "It was so hard for me when she moved to Coffeyville and I stayed in Baldwin, because I hardly ever got to see her. Once we started cheering together our freshman year is when we became best friends. I considered her my best friend and I know she did the same with me. We talked about everything and knew absolutely every secret there is to know about each other."
That close-knit bond only made Friday's shocking news even harder on Mallon. Bergan, also a 2008 BHS graduate, went in for appendix surgery Thursday night, but she tragically died the following morning in Coffeyville Regional Medical Center. Cause of death of the 19-year-old is still unknown.
"I was shocked. No words can even describe how I felt," Mallon said. "It was just like my heart had been torn apart instantly hearing the news. It didn't seem real and it still doesn't."
Another BHS classmate, Kat Niehues, who now attends Baker University, was also surprised to hear about the loss of her close friend.
"I heard it when I woke up Friday morning," Niehues said. "I had a voicemail from my cheer coach. I called her back and she told me. I was shocked. I didn't believe it."
The news quickly spread around BHS and rocked the student body. BHS junior Katie Brecheisen, a teammate of Bergan's, was devastated by the news, especially since she talked to Bergan a week before she died.
"I didn't believe it or want to believe it at all," she said. "Then I walked into school and everybody was sad."
Bergan's funeral on Monday drew a large number of BHS students. It was more emotional than Brecheisen thought it was going to be.
"I don't think it's set in that it's real to me yet," Brecheisen said. "Monday was probably the hardest day, seeing everyone at the funeral. The closing of the casket really got me. That was very tough to watch."
Bergan's life, which includes the past six years in Baldwin City and this fall in Coffeyville, impacted many other lives.
"She was the life of the party and she could put a smile on anyone's face," Brecheisen said. "She accepted everyone. She was just a great person."
Bergan played volleyball and basketball at BHS, while also participating on the cheerleading squad. Kelly Brown, BHS volleyball coach, had been in close contact with Bergan during the three previous weekends. They were working to form a Baldwin Volleyball Club team that Bergan was going to coach.
Brown, who coached Bergan during her final two years as a Bulldog, said Bergan's actions and charisma on the court left an imprint on her and opposing coaches.
"Alex was my leader. She knew the court and knew the game," Brown said. "I gave her the reins and she took them without hesitation. She was vibrant and full of energy. There aren't many kids that come along and stamp your memory like Alex did. Even coaches in the league that heard of her passing didn't have to ask, 'which kid was that or who was she?' They knew. She left an impression on people."
Many of Bergan's friends will always remember her personality and joy for life. Mallon said her friend will also be remembered for her dancing and silliness.
"If you were ever talking to her for a long period of time she would just kind of go into a blank stare and she should would always joke, saying 'sorry guys my ADD was kicking in,'" Mallon said. "She was so random with what she said and her actions, but that was what made her so funny."
Brown recalled a couple of memories from her experience as Bergan's coach. She remembered the team had a cake on a bus ride home, but no silverware to eat with. So Bergan dug in with her fingers and the rest of the team followed in a messy cake-eating frenzy.
Another memory she shared was when Bergan mocked an opposing player during the 2007 sub-state volleyball tournament. Brown remembers Bergan being blocked, but instead of being mad, she mocked the opposing player's well-known cheer.
"As a coach, that's the last thing you want, is a player not maintaining a good attitude, not 'leaving it on the court,' but instead I was gleaming inside," Brown said. "Alex never let anything bother her, it continued to fuel her to play harder. She kept smiling and encouraging her team. Alex was my girl and I'm sure I'm not the only coach or teacher or sponsor to feel that way about her."
While her humorous personality and actions might be memories for many of Bergan's friends, some will miss her serious talks and insight she had to give. When Niehues' family was experiencing one of its darkest moments in the summer of 2007, she was there.
"Alex helped me through so much," Niehues said. "I don't know what I would have done without her when I moved here. She also helped me so much with handling my dad's death. She was there every day and she and her family helped mine so much. I wouldn't have been able to get through it half as well as I did without her and her family and other friends. She could always make me laugh no matter how down I was."
Mallon will also carry with her Bergan's ability to be a great friend and be there when her friends needed her the most.
"The weekend before she passed I had some people over and she wanted to just talk," Mallon said. "We went outside and just talked, even though it was freezing cold. We just sat out there and had a heart-to-heart talk. I have had so many heart-to-hearts with her and will remember all of them.
"No matter when I needed help from her she would be there," she said. "I could call her at two in the morning and she would answer my phone calls. She was an awesome listener and an awesome friend."