Santa enjoys annual visit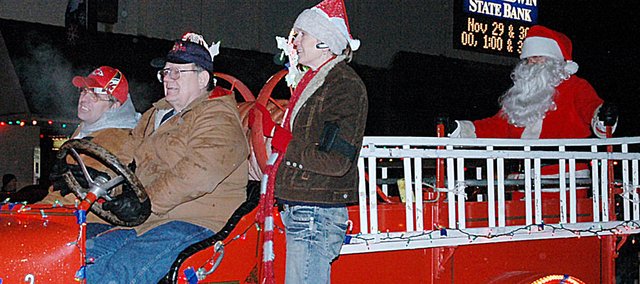 He came. He saw all of the children. He lit the community Christmas tree.
Yes, Santa Claus made the first of his trips to Baldwin City on Saturday. In the morning, he ate pancakes and visited with dozens of local children. He returned later that evening for the annual Holiday Light Parade.
As always, Santa's appearance ended the parade. He hopped off the antique fire engine, walked over to the tree and chose one lucky child to help him light the tree. Santa was happy to ring in the holiday season Saturday.
"They invited me down and wanted to know if I could squeeze it into my schedule," Santa Claus said. "I said I can always do it. I'm quite magical, as you know, so I can come if I just wish it. Rudolph and the reindeer had me here in the blink of an eye."
"I just looked around through my spectacles and found one lucky little girl to help me light the tree. I picked her up and she was a little upset, but we had fun lighting the tree for everyone to see."
This year's lucky child was Baldwin City's true baby in 2008. Piper Pringle, daughter of Mark and Julie Pringle, is now 9 months old. She will soon have a memory of helping Santa light the annual Christmas tree.
"It was very nice," Julie said of her daughter being chosen by Santa. "She was a little apprehensive at first. It will be an awesome memory for her. It was cool, because she was born here and there was an article when she was born. It kind of cemented her year."
Santa said he enjoyed Piper's help and the entire festivities Saturday night.
"I saw they put up new banners on the streetlights downtown here," he said. "They look great. Of course, the tree has been moved from the corner so that's nice to have it in the grass lot. Things are looking good here in Baldwin."
He also enjoyed eating pancakes and taking photographs with local children at the Baldwin Elementary School Intermediate Center.
"I've been coming here a long, long time, so the thing I like the best is seeing the smiling faces of the children," Santa said. "I also enjoy seeing the new babies. There always seems to be new children coming around. It's always fun for me to remember way back when mothers were sitting on my lap as children and now they're bringing their children to sit on my lap. That's a wonderful thing."
The Breakfast with Santa event was sponsored by the Baldwin City Recreation Commission. Steve Friend, BCRC director, said 85 tickets were sold for the event.
"I'm told that is a very good turnout, so we're happy about that." Friend said. "About two-thirds of those were probably kids. They had their picture taken and ate a lot of pancakes. You had to catch the pancakes as they tossed them. You'd be standing in line and you'd have to catch pancakes."
The BCRC also sponsored its annual raffle drawing Saturday night after the parade. Tammy Michael, BCRC recreation specialist, said more than 300 people stood outside in the light rain and snow to win around 100 prizes that were given away. Some prizes were small, but others were larger and more valuable.
"We gave away bicycles, a DVD player and a digital camera," Michael said. "They were all donations from area businesses. I'll bet we gave away more than 100 items."
After the parade was over, Santa sat down for an interview. He said he was happy the parade went off as scheduled this year after it was canceled a year ago because of icy conditions. Santa said bad weather doesn't affect him or his reindeer, but he knows the safety of children is a priority.
"It doesn't bother me," Santa said. 'The weather never bothers me, but I think there was a concern about it being too icy and cold for some of the children. I was here, though, and checking in on them, making sure they were good little boys and girls."
Since Christmas Day is three weeks from today, Santa said his helpers are busy working in the North Pole. He also said children shouldn't be worried about the economic troubles affecting Santa's workshop.
"No, it never does, because the way that the elves, Mrs. Claus and I operate is strictly in the spirit of giving," Santa said. "We will always make sure that the children are taken care of.
"The elves are hard at it and their noses are to the grindstone," he said. "They are working really hard and they're getting the lists from the children about the things that they would like. Of course, I've been out and about, while watching who's being good or not. I want all of those little boys and girls to know that I do know who's been good and bad. I do watch out for them."
Santa did have one last message for everyone during this holiday season.
"I want everybody to be as good as they possibly can be," Santa said. "I want them to love their families and love themselves, too. They should be good to people and remember it's the spirit of the holidays and goodness. I want them to have a wonderful time with their friends and family. I want to wish everybody a Merry Christmas."