League honors roll in for
BHS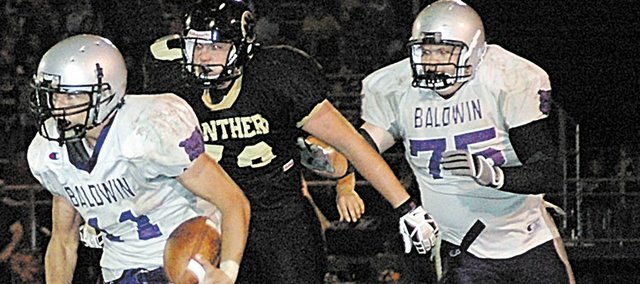 Amidst successful seasons by a trio of other Frontier League schools, a dozen Baldwin High School football players earned postseason honors.
The 12 Bulldogs were voted on the all-league teams by the seven other league coaches. The postseason recognition helped cement another solid season by the Bulldogs under Mike Berg's regime.
"You don't get individual honors if you play on a team that's not very good," Berg said. "They have that old saying, individual accomplishments come from team success."
Baldwin High finished its season 8-3 when it lost to Holton in the regional round of the Class 4A playoffs. Three other league schools advanced further into the playoffs than BHS, so Berg wasn't sure how his team would fare in the postseason honors.
Louisburg and Paola both made it one more round than BHS in the 4A playoffs, while Gardner-Edgerton advanced to the final four in the 5A playoffs.
"They are all most definitely deserving of these honors," Berg said. "I told them last night at the banquet that they're all first-teamers in my book. When you have four teams that make the playoffs and three of them go further than your team, it's tough to make the all-league team. We have a tough league and it was impressive to finish runner-up. We had some really good kids, old and young, that helped us out this year."
Baldwin's players who earned first-team honors were seniors Sam Beecher (running back), David Tuley (offensive line) and Carson Wood (defensive line).
"I think normally, the further we go in the playoffs, the more honors we get," Beecher said. "I thought it was cool that some sophomores and other seniors got some honors, too. I think it helped us that we had a good season and won a playoff game."
Beecher rushed the ball for 1,807 yards and passed for 970 yards this season as the Bulldogs' dual threat in the single wing offense. He also scored 25 touchdowns this fall and led the league in total yards from scrimmage.
"I wasn't sure what to expect coming into the season, because I was going to be throwing and running the ball," Beecher said. "Coach Berg said he would put a lot on me this season and I didn't have any idea I would get that many yards and touchdowns, but it's a really cool feeling.
"There were a lot of other good backs in the league so it wasn't a guarantee I'd make it," he said. "When coach Berg called it out at our banquet, it made me feel pretty good."
As a three-year starter for the Bulldogs, Beecher racked up 5,388 total yards. He rushed for 904 yards as a sophomore and 1,665 as a junior. His touchdowns also increased each season, from nine to 16 to 25. It was his second straight season to be on the first-team all-league.
"He had a great career," Berg said. "Since I've been coaching, he's our second-leading yard gainer behind Micah Mason. He's just had some incredible stats as a three-year starter. He just kept getting better and better every year."
Tuley started two years for BHS as an offensive tackle. His 6-foot-3 frame made it difficult for opposing defenders to get around him. Berg said the Bulldogs ran left many times, because Tuley was primarily on that side.
"He was one of the most dominant offensive linemen in the league," Berg said of Tuley. "He has been for the past two years. Teams knew we were going to run behind him and we still averaged 6 yards per carry this season. Most of the time we were running behind him."
Baldwin's other first-team player was Wood. He started at defensive end for the Baldwin during the past three years. Wood increased his sacks by one each year, but he also led BHS with tackles this fall.
"He led our defensive line in tackles this year," Berg said of Wood. "He ended up with 81 tackles. He had 42 solos, 10 for loss and six sacks. He kept getting better and increased his sacks each year."
Other defensive honors went to senior Logan Schiller (defensive back), senior Ethan Hebenstriet (defensive line), senior Brandon Tommer (defensive back), junior Sam Foye (linebacker), sophomore Landon Ausherman (linebacker) and sophomore Josh Hoffman (punter). Schiller was named to the second-team, while the rest were honorable mention selections.
Joining Beecher and Tuley on the offensive side were senior Andy Thurlow (offensive back), senior David Garrison (offensive line), Jesse McDaniels (offensive line), Tommer (wide receiver) and Hoffman (running back).
"We had a few sophomores get honorable mention, which usually doesn't happen in the Frontier League," Berg said. "You usually get a lot of seniors and some juniors. It says a lot about what the future looks like for our team."