City's take over of cemeteries set for new year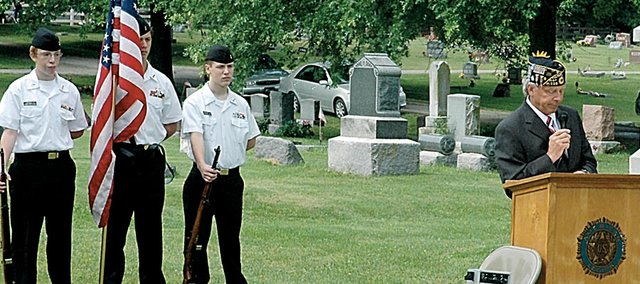 A smooth transition for operation of two cemeteries set to be deeded over to the city got a start at Monday's Baldwin City Council meeting.
The Baldwin City Cemetery Board approached the council in May wanting to deed the two properties, Oakwood Cemetery and Pioneer cemeteries, to the city. The board said that operating Oakwood for the past two years had lost about $23,000 which was eating into the board's certificates of deposit. They wanted to deed the cemeteries over while their assets, including a $120,000 trust fund, were still in place.
At the time, City Administrator Jeff Dingman told the council that it wasn't uncommon for cities to take over cemeteries and he suggested that it be done. Nothing has changed since, but will soon.
"Things are progressing where we will take over the two cemeteries, one active, one non-active and all of their assets at the first of the year," said Dingman. "I've tried to continue operating it much as it has been."
Dingman had an ordinance that established rules for the cemetery operation for the council's approval. It was the first reading and passed unanimously. At the next council meeting, the second reading will put the process in motion.
Baldwin City Cemetery, the formal name of Pioneer Cemetery, began in 1854, but was only active for 15 years. There were problems with the prairie area being too wet for graves to be properly buried. It is east of Douglas County Road 1055 just to the south of town.
Oakwood Cemetery was opened in 1869 and consists of 55 acres. It is north of Orange Street and west of Third Street. There are 2,500 gravesites left in the cemetery. In the 1980s, they sold for $100 apiece. That was raised to $200 in the 1980s, $400 in 2000 and $500 in 2007. Around 10 to 12 sites are sold in an average year.