BJHS

basket auction to highlight Friday night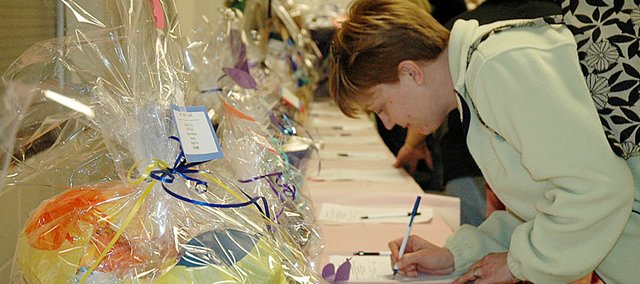 Anyone searching for a variety of Christmas gifts might stop by Baldwin Junior High School on Friday evening.
Some of the gifts that can be purchased at the BJHS annual basket auction include flying lessons, professional baseball game tickets and a basketball signed by the University of Kansas men's basketball team.
Friday's event begins at 5:30 p.m. in the BJHS commons area. The bidding will last until 6:30 p.m. Then the winners will pay for and collect their baskets before the vocal music concert at 7 p.m.
"We love lots of baskets," BJHS Principal Connie Wright said. "All of our first hour classes have created baskets. We're very excited. We have a lot of winter themes and some Christmas stuff. Of course, we always have candy and sports things, too."
BJHS's annual fundraiser has been moved from March to December this year. It usually took place right before Spring Break each year, but BJHS organizers moved the event up for several reasons. They are hoping families come out to support the school and do some Christmas shopping at the same time.
"There were several things going on in March that we felt were kind of a conflict for us," Wright said. "So, we decided to do something different and energize it this year. We're seeing if maybe it would be better for families right before Christmas so they could come to the basket auction with the idea of buying some of their Christmas gifts."
Friday isn't all about the basket auction at BJHS. There will also be a book fair, art fair and a vocal music concert that evening. The book and art fairs also begin at 5:30 p.m. with the vocal music concert starting at 7 p.m.
"We're really excited to show off our talented kids for a night," Wright said. "We have art work that the students have done. The book fair really helps our library purchase a variety of things. Also, we love to hear our vocal music kids perform."
BJHS will also be hosting seventh and eighth grade varsity basketball tournaments Saturday morning. The action will begin at 9 a.m. Wright said the school is ready for Friday and Saturday's event.
"We are very excited," Wright said. "This is our big fundraiser. The money really helps us do things for our students and staff that we would not be able to do otherwise. We really appreciate people coming out and supporting us."