Vineyard takes shape north of Baldwin City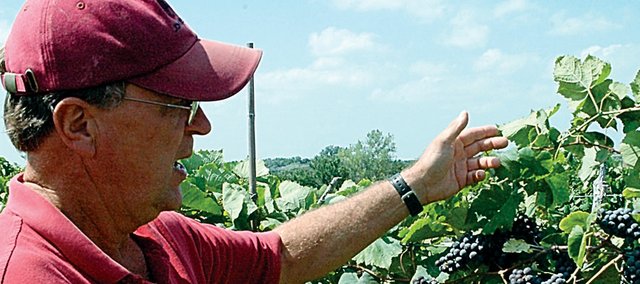 The identity of many states is tied to what is grown there. Florida is known for oranges, Nebraska for corn, Georgia for peaches and many associate wheat with Kansas.
That didn't stop Pep Solberg from starting the Bluejacket Crossing Vineyard and Winery.
After six years of learning about all that goes into making a bottle of wine, Solberg and his wife, Vasuki Solberg-Selvan, opened the doors in May of their winery northeast of Baldwin City.
If you're skeptical about good wine being made in Kansas, Solberg understands because he was, too. But a visit to Davenport Winery, which is Douglas County's oldest winery, changed his mind about the possibilities.
"I drove past that place for five or six years thinking, 'The last thing I'm going to do is stop in there,' but I had enough people tell me that Davenport made a good product," Solberg said. "I stopped in and asked for their best dry red wine, and it was just excellent. It was something that I had never heard of before a hybrid that had been developed for midwest weather conditions."
Solberg, who grew up in the Kansas City area, had been living with his wife and three children in Northern California for about 25 years and his only experience with vineyards and wineries was in the construction of varying phases of them, as he owned a design-build firm. He returned to Kansas because his parents' health began to fail.
Named after Native American George Bluejacket - who used to ferry settlers across the Wakarusa River - Bluejacket was started in 2002.
It wasn't just as simple as deciding to start a vineyard, as Solberg and his friends and family have put in many long days just to get to the point where they could begin to start selling their wine.
"I think we've made every mistake that you can make, but what we've got going for us is tenacity, and that got us started," Solberg said.
Solberg also took classes in the nuanced practice of growing and harvesting grapes, where he learned about everything from the treatment of soil to protecting grapes from pests such as bugs and birds. He also has received help from Davenport Winery and Holy-Field Winery, which is near Basehor
"We're seeing it (the classes) work, but it takes patience," Solberg said. "What we've discovered in six years of going through this learning curve is you're not going to get it right for a while - the question is whether or not you'll stick with it."
The grapes are ready to be harvested this week, and it has been a yearlong process to get them to this point because there are so many stages of development - another lesson Solberg learned early on.
"I looked at the cycle and thought, 'there will be a break here, you can take a little time off,' but it's pretty much a year-round process," he said. "The care takes place incrementally for the fruit to hit its peak."
The vines have to constantly be kept under control because if there are too many grapes, the amount of nutrients will be spread too thin and the quality of the grape - and ultimately the wine - will suffer.
Solberg also had to figure out how much energy to spend weeding and the proper ways to spray for pests.
Once the right amount of grapes are on a vine, the amount of sunlight they get must be monitored as well because that will determine the sweetness.
It has been a balancing act for the staff at Bluejacket to figure out how to put out the right amount of energy for the right amount of fruit.
Once picked, the grapes must be tested for their sugar, acid, and pH content.
"In winemaking, you have to pay a lot of attention to detail and make sure everything is how it should be," Solberg said. "You just have to be so careful. If those readings you took aren't in the right parameters, you can contaminate your product."
After testing, the grapes are fermented at varying temperatures and lengths of time, depending on the type of wine.
From harvest to the bottle takes about three to four months for white wine and times vary for red wines.
Though Kansas only has about 15 wineries, four of those wineries - Bluejacket, Davenport, Holy-Field and Kugler's Vineyard in Lawrence - are within about 25 miles of each other.
Solberg noted that the four wineries could be the beginning of a wine trail, much like those that exist in Northern California's Napa Valley.
He hopes so see more agritourism like the Annual Kaw Valley Farm Tour, which is Oct. 4 and 5 and features Davenport and Holy-Field and 13 other farms in the area.
Once Solberg gets his vintaging skills and inventory to where he wants them, he would like to build cottages as well as build a small event center for weddings and small concerts on his 20-acre property.
"You want your product to be good, and you hope it'll be excellent," Solberg said. "When you get that positive feedback after putting up with everything, it's more rewarding than any work endeavor that I've been involved in."
Bluejacket Crossing Vineyard and Winery is located at 1969 N. 1250 Rd. Tasting room hours are from 4 p.m. to 7 p.m. Wednesday through Friday and from 1 p.m. to 6 p.m. Saturday and Sunday, or any day by appointment. Exact directions to the winery can be found on its Web site at bluejacketwinery.com, or by calling Solberg at 542-1764.