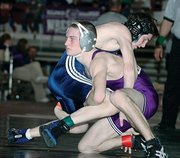 Nick Rockhold accomplished a feat no other Baldwin High School wrestler has ever been able to do.
He may not have won a state championship or earned the most victories in Kansas history, but his accomplishment was a first. While his career, may have been overshadowed by fellow 2008 BHS graduate Kevin Callahan, Rockhold can sit alone with his newest honor.
He was recently named one of 53 seniors spanning 30 states to earn the status of Academic All-American at the high school level.
"This honor takes the cake," Rockhold said comparing all of his other accomplishments. "I'm the first from Baldwin. No one else has ever gotten it from here before. It makes me feel pretty good. Now I can say I was the first in something in Baldwin history."
BHS wrestling coach Kit Harris nominated Rockhold for the honor, which required filling out an application with all of his academic and wrestling honors and information. When the news came of Rockhold's honor, Harris was thrilled for his former wrestler, who got a late start on the sport but developed into one of Baldwin's best ever.
"What a great honor for Nick and for BHS," Harris said. "What is most impressive is that he had very little to no wrestling experience when he started as a freshman about three weeks into the season. He had all of his success with hard work and guts. He has got to be one of the most improved grade nine to grade 12 wrestlers I have ever seen. BHS is very proud of him."
When the letter arrived recently, Rockhold wasn't even sure what it was about. He took it to Harris, thinking it was something about making the Kansas Wrestling Coaches Association Academic All-State team, which he was named to in the spring.
"I thought it was something that everybody got," Rockhold said. "I didn't realize it was something special until Harris read it and told me exactly what it was."
Rockhold had a 3.64 grade point average, 22 ACT score, and ranked in the top 20 percent of his senior class. He was named to the KWCA Academic All-State team earlier in the spring.
H had a career record of 103-49 in his four years as a BHS varsity wrestler, being a Class 4A State qualifier all four years. He was a two-time state placer, finishing second as a junior and sixth as a senior. He finished eighth on the BHS all-time wins list, despite only wrestling half of his sophomore year because of an injury. He also competed for Team Kansas at the national level at Cadet National Duals and at Cadet Nationals in Fargo, North Dakota.
"He's the first one in my years here and probably the first ever," Harris said. "It's a huge honor. You've obviously had to have success at your state level, competed and had success at the national level and shown strong academic achievements in a good, challenging course curriculum. Nick qualified in all of those. He was a two-time state place, four-time state qualifier, he competed for Team Kansas at cadet duals and cadet nationals and he had 3.64 GPA.
"The real reason these kids are in school is to be successful academically and move on to the careers of their choice," he said. "Athletics is a great, fun thing to do and strive for goals, but the academic part is the most important. There are a lot of kids in this school that take their academics and athletics seriously."
Rockhold is now enrolled at the University of Kansas and is majoring in civil engineering.