Move-in day successful at Baker University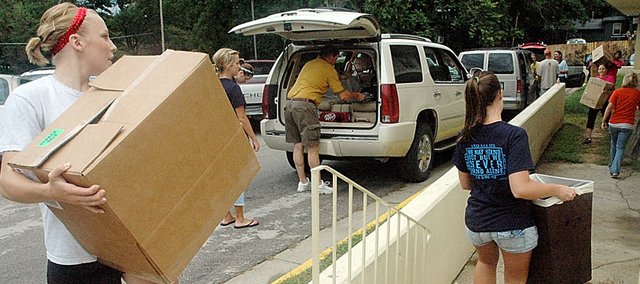 A pair of Baker University and Baldwin City icons spent Saturday morning helping incoming students and their families at Irwin Hall.
It's a tradition that dates back nearly a decade. Each August, they volunteer their time and moving skills for four hours assisting freshmen women and their living supplies into their new residence hall.
The Rev. Ira DeSpain, university minister, and Tony Brown, who is now an adjunct Baker professor, enjoy volunteering and welcoming several of Baker's newest students.
"I really do enjoy it," DeSpain said. "It really makes a lasting impression on the students and families. It makes them feel welcome to the university and they value the help.
"The parents are very appreciative of the help," he said. "Many of them show up in two vehicles and it would take them an hour to get unloaded, but we get them in their room in about five minutes."
The local duo work from 8 a.m. to noon at the residence hall. According to Brown, most of the students are moved in by 11 a.m. or noon, so it's been an unspoken policy to leave around that time. However, they remain busy during those four hours.
"It's great fun. It's a riot," Brown said. "It's a lot of work carrying the stuff around. Once you get there, it's constantly busy. There are not too many people that move in at 8 in the morning, but it picks up at 9 or 9:30. It's also great to see the looks on parents' faces when they pull up and a dozen of us volunteer to take the boxes out of their car and up to their daughter's room. They are surprised we are there to help them."
When asked why they only help out at the female dorm, Brown said they have worked at the co-ed dorm, Gessner, which is primarily men, but they know the parents of the women could use more assistance.
"I don't want to be gender stereotypical, but female students tend to bring more stuff than the guys do, plus they tend to set their stuff up before it's all moved in," Brown said. "Everything falls on their dad or their brothers who might be there to help them out. That's the reason we decided to help at Irwin. We've done Gessner, but it takes care of itself.
"Some girls are very organized and it's all in boxes and labeled nicely," he said. "Then there are some that just throw it in paper sacks and throw it all together."
Although Brown and DeSpain have been volunteering for years, there were many others helpers Saturday morning at Irwin, Gessner and the new Living Learning Center. Members of different sororities helped at Irwin, along with the residence assistants at each building.
Brown and DeSpain were even able to talk another faculty member into volunteering Saturday, despite many years of denial.
"We've tried to get other faculty members involved but we've just had limited success," Brown said. "Alan Grant (associate professor of business and economics) did help us this year for a couple of hours. Mostly it's been Ira and myself."
Most of the items they carry to the rooms are boxes, televisions, refrigerators and the larger items. To avoid any awkward moments, they avoid carrying any articles of clothing.
"We are careful what we end up carrying up to the rooms," DeSpain said. "We stick to the refrigerators, televisions, computers and suitcases."
While the origin of how and when they started helping freshmen move in is unknown, both are certain it was around a decade ago.
"We've been doing this more years than I can remember," Brown said. "I don't remember when we started. Ira and I were thinking it was around nine or 10 years.
"We just thought it would be a nice gesture to help students move some of their stuff in," Brown said. "At first, it was just Ira and myself and it was a big success. It's now gotten to be a little big larger than just Ira and myself."
DeSpain said the idea originated in the student development office several years ago and now has become a rite of passage each August.
"It was an idea out of the student development office, but now it's a pretty diversified group that helps each year," he said. "There are lots of Baker students that help now."
The Baker University College of Arts and Science campus in Baldwin City officially started classes on Wednesday.