First fall contest set for soccer field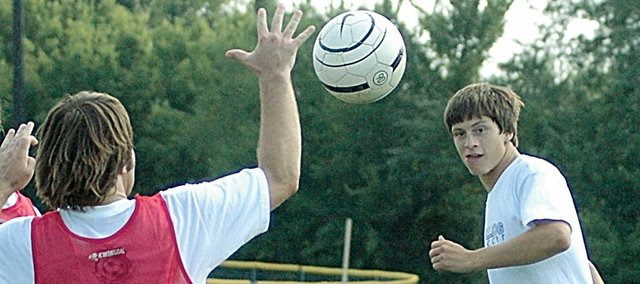 Pardon the pun, but the Baldwin High School soccer team will be kicking off the 2008 fall season Friday afternoon.
During the next week, several of the BHS teams will begin their highly anticipated seasons. The first of those will be the soccer squad, which will start its first season under first-year head coach Matt McCune, a BHS alumnus.
The Bulldogs' first contest will begin at 4 p.m. at the BHS field, located just north of the school. The varsity will play first, with the junior varsity beginning around 6 p.m.
"It will be a good way to judge how we are, skill-wise," senior captain Nick Barkley said. "We're hoping a lot of people come out for the game."
While Barkley and many of his teammates are excited for the season opener, McCune remains hesitant since the Bulldogs only began practicing 10 days ago.
"It's pretty early, so I don't think we're going to be as ready as we can be," McCune said. "The other team has the same situation, so we'll see what happens."
The Bulldogs have a core group returning from last year's team. In fact, 13 seniors are playing this fall. Some of those key returners are senior Casey Wagner, senior Colin Busby, junior James Simmons and junior Levi Moore.
However, the seniors aren't the largest class on the 46-person roster.
"It's great to see that kind of interest in the sport," McCune said. "Sometimes it's hard when I'm out here by myself as the coach. With more players, you get competition and ultimately with any sport, competition is what you want, especially at practice, because that's where you get better."
There are 16 freshmen on the team, several of whom will see varsity playing time during the season.
"There will be a few that get some early varsity experience," McCune said. "We probably plan on using four or five by the end of the year. They might even see significant playing time."
Barkley has enjoyed the added competition the freshman class brings to the team.
"We have a lot of freshmen this year, but they are really stepping up and challenging a lot of the upperclassmen," Barkley said. "That's good for us."
Another BHS squad with a high number of freshmen is the volleyball team. On the team of 39 girls, 16 are freshmen and only three are seniors. With high numbers this year, coach Kelly Brown is concerned about finding playing time for all of her players. She did say the players are working hard in practice and trying to earn their playing time this fall.
"The girls have worked hard and they are sticking it out," Brown said. "We've talked about playing time, which might be scarce for some players, but they are willing to stick it out and work hard for it. I respect that."
The varsity team begins the season at Bonner Springs while the junior varsity squad will play at Eudora. Both teams begin action at 5 p.m. Tuesday.
"I'm looking forward to it and the girls have been working really hard," Brown said. "Our offense looks really good this year. We're defensively strong and we have a good libero that is in our program now. I think we'll be good."
The varsity team returns three starters from last year - senior Olivia Catloth, sophomore Ramie Burkhart and sophomore Lyndsey Lober. Added to the team this year is sophomore Kyla Good. Brown is also expecting improved play from junior Katie Brecheisen.
"I think Olivia and Leigh (Schenewerk) will help keep the team pumped up and positive," Brown said. "They've got a really good outlook going into the season."
One other BHS team that has a strong core returning is the girls' tennis team. They are under the guidance of first-year coach Justin Hoffman, who took over for the retired Ginny Honomichl.
The Bulldogs have 28 girls on the team this fall, which keeps Hoffman busy holding two practices every day.
"Things are going pretty well," Hoffman said. "We've got 28 girls out, so it's a challenge to run two practices. It's probably for the advanced players, because they can get a little more skills-based practice, than just the fundamentals, which they already know.
"Most of the girls in the second practice played varsity last year," he said. "Brianna Krysztof and Alyssa Peterson played No. 1 doubles for us last year, while Emily Russell and Aubrey Black played No. 2 doubles last year. They are the main returners, so I'll be looking for them to lead the team."
The JV team will play Wednesday at Mill Valley and the varsity team will play Sept. 4 at Topeka-Hayden.
"Practice is good, but I like when we start getting intermixed with matches," Hoffman said. "It's hard to zero in on exactly what the girls need, until they've had some match experience."
The cross-country teams also begin Sept. 4 at Anderson County. The BHS football squad will play its first game Sept. 5 at Paola. The soccer team is the only one to begin at home.
"I'll tell you, whoever made the schedule did us a favor," McCune said. "We've got a lot of home games early, which will help season our youth. Then we have some road games at the end, which will get us ready for regionals."