Clearfield Church to celebrate 150th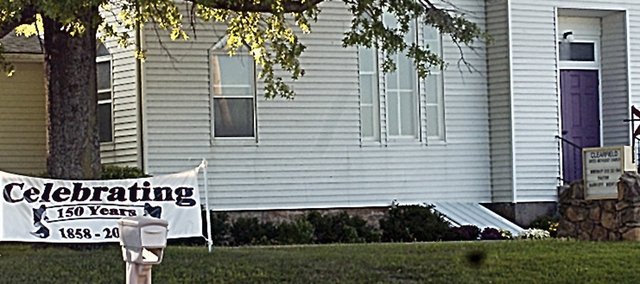 The Clearfield United Methodist Church building is an unassuming white chapel set out amongst the farms of rural Douglas County.
It's modest, well-kempt exterior belies that it will be full Sunday as the congregation of about 70 celebrates the church's sesquicentennial anniversary.
The church, located about six miles south of Eudora at E. 597 2200 Rd., started out as an Evangelical Association Church and has been in the same building since 1880.
Sunday's activities will include a worship service at 9:20 a.m., a catered lunch - costing $8 per person - at 11:30 a.m. and a "Singspiration" at 1:30 p.m.
Jean Reynolds, who has been attending the church since she was a little girl, said former pastors and their families have been invited, as well as descendants of the five founding families.
Reynolds said those in attendance should come with family history or some stories about their experiences at the church.
Though the manner in which pastors preached is not the same, the overall message remains the same.
"The way pastors presented sermons in the old days, it was more hell bent for leather and to maybe scare people into it (Christianity) rather than by grace, and that has changed," Reynolds said. "But the same caring that we want to do for our families and neighbors - that hasn't changed at all."
Theworldco.info reporter David Oakes can be reached at 542-2747.