Bulldogs ready for scrimmages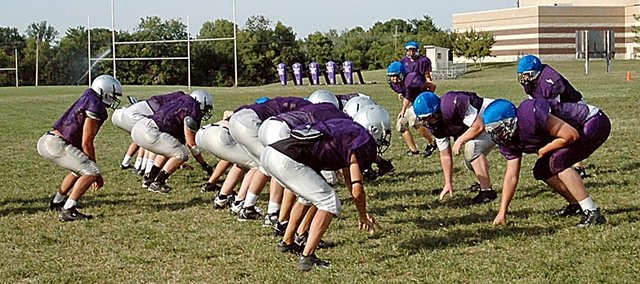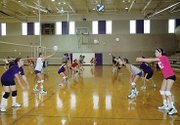 With home contests weeks away, Kelly Brown and Mike Berg are inviting the public out for a preview of their teams Friday evening.
A pair of scrimmages will give Baldwin High School sports' fans their first glimpse at two of the 2008 fall teams. The BHS volleyball squad will scrimmage a team of alumnae, while the BHS football team will scrimmage itself.
The volleyball scrimmage will begin at 5 p.m. at the BHS gymnasium. It is free and open to the public. Brown is hoping to see a large alumnae group return for the first-ever scrimmage.
"Any alumnae can come back and play," Brown said. "We'd like to see as many alumnae come back as we can. I know that Emily Brown is going to round up a crew to come down, so it will be fun to watch them."
Since the Bulldogs don't begin playing matches until Tuesday, Brown wanted to give her team a chance to play in a game-like situation. She also had interest from BHS alumnae to hold a scrimmage. Now it has become a reality and will happen Friday evening.
"We had some interest from some alumnae," coach Brown said. "They asked if we had ever done one in the past. I thought it would be fun for the girls and it might get some first game jitters out of the way."
After watching the volleyball team play, BHS fans can then head to Baker University's Liston Stadium for a 7 p.m. kickoff. The freshman team will play first for about 45 minutes. Then the rest of the BHS team will take the field and scrimmage for nearly an hour.
Visitors to the football scrimmage are asked to bring powdered Gatorade to the game. It will be used for the team during practice and games.
"We try to hydrate our kids before every practice and we use it at games," Berg said. "Our supply is getting low, so we hope everyone brings powdered Gatorade."
It will be the Bulldogs' only chance to play on Liston's artificial turf field before their Sept. 19 home opener. That night will also be the ninth annual Bash.
"We get to play at Liston Stadium," Berg said. "We won't be there for three weeks, so it will be nice to be on it for the first time this year. The kids will enjoy the turf. We played on it a couple times during camp, but it will be better in full pads.
"I think they are ready to play," he said. "I wish we didn't have to go against each other, because that's all we've been doing. It's the best we have, so we're going to make the best of it."
The BHS volleyball squad will host its annual home tournament on Sept. 13.