Real road closure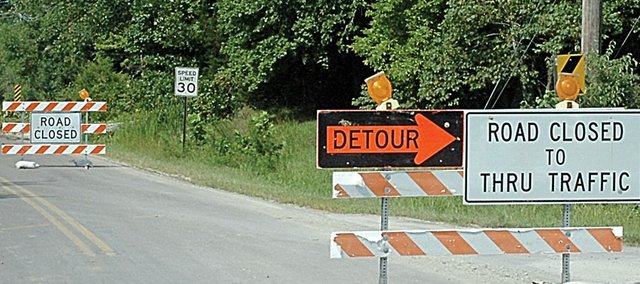 After a month of practice, it's game time. Sixth Street south of High Street is closed until further notice.
For about a month, there have been signs warning motorists along Sixth Street about "road closed ahead" and "detour ahead." But, there was still pretty smooth sailing all the way through the construction zone street. That started to change last week with more construction and Monday the "road closed" signs were put up for real.
Douglas County is in charge of the $1 million-plus project because Sixth Street is also County Road 1055, but the city is helping with the cost.
"Sixth Street will likely be closed until the end of the year," said City Administrator Jeff Dingman. "This project is being managed by Douglas County's department of public works.
"The road surface is being re-graded and rebuilt, and storm drainage and sidewalks will be added," said Dingman.
For the past couple of months crews have been doing other work along the stretch of road ahead of the street work.
"In advance of the road project, we have replaced/relocated a water main, a sewer main and electric utility poles," he said. "Some of that work is still being finished up."
The sewer work has moved east of Sixth Street along Fifth Street. Cost of the sewer and water project is $245,000. The street work was bid at $1,109,918.
In the meantime, the project will snarl the area for months.
"There's no thru traffic," said Dingman. "Local traffic and access will be maintained as much as possible, but all will be inconvenienced at some point."
For those going south on Sixth Street, the detour is to take High Street east to Third Street, turn south and go to Orange Street, turn west and return to Sixth Street/County Road 1055. For those coming into Baldwin City from the South on 1055, the detour goes east on Orange to Third, etc.