State heading for record corn crop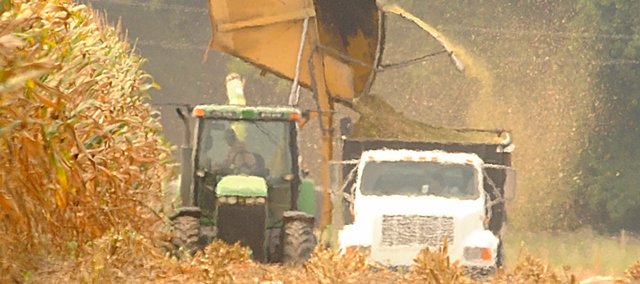 Kent Nunemaker launched his corn harvest this week by cutting a 40-acre field northeast of Lawrence.
He was pleased with the results.
"The corn looks pretty good this year," he said on Thursday. "It's a little above average."
Nunemaker's harvest began at least three weeks ahead of most corn growers. His early corn was stored in a silo to be fed to cattle. He still has about 1,500 acres to cut.
Most area cornfields are in the final stages of maturing or drying before harvest gets into full swing in mid-September, agriculture experts said. Planting was in March and April.
"Here in eastern Kansas, we were very wet at planting time," said Darren Hibdon, Franklin County extension agricultural agent. "Some fields were drowned out and possibly had to be replanted, but the early-planted corn on upland soils actually looks good."
Corn is thriving this year, and the United States is expected to see its second-largest corn crop in history, according to the U.S. Department of Agriculture.
Kansas is headed toward its largest-ever corn crop, said Eldon Thiessen, director of Kansas Agriculture Statistics. Last year's state production brought in 518 million bushels of corn. If yields are good this year, 522.6 million bushels could be harvested, he said.
"That's because we increased our acres planted by 200,000," Thiessen said. "It has to do with the industry looking for more corn, and the Kansas farmers responded."
Thiessen couldn't say whether the growing interest in biofuels, some of which are made from corn, was behind the increase in acres planted.
"They (farmers) felt like they could make more money with corn based on the price that corn was bringing on the marketplace," he said.
The price of corn has fluctuated, reaching highs of nearly $7 per bushel and more recently between $5 and $6 per bushel, Hibdon said. Only a couple of years ago, farmers were facing corn prices of $2.25 to $2.50 per bushel, he said.
But farmers also are faced with increased production costs, Nunemaker noted.
"Prices are good, but our input costs have tripled," he said. "Fertilizer, herbicides and fuel all have gone up."