School board updated on open meetings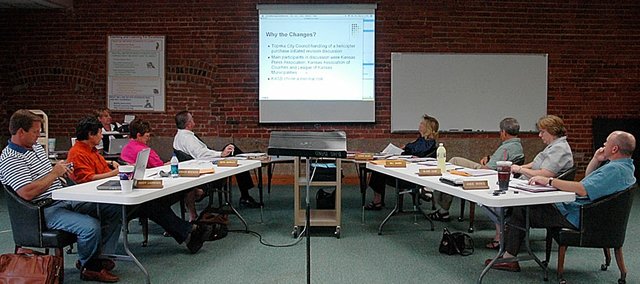 Last Monday, the Baldwin School Board was one of many districts around the state that sat through a brief webinar before its monthly meeting.
Changes in the Kansas Open Meeting Act forced the school board's first-ever Internet seminar. The narration was given by representatives of the Kansas Association of School Boards.
"I learned a lot from it," School Board President Alison Bauer said. "It was very clear, concise and worth our time and money. I learned situations about open meetings that I'm much more confident about than I have been in the past. I had an understanding of it, but the language in the statute made it much more clear. Although it was brief, it was very beneficial to me."
There were two major changes to the KOMA that were presented during the webinar. The primary change is in the number of elected officials that it takes to hold a meeting.
The old rule said the majority of a quorum was needed to be an official meeting. In a school board of seven members, it only took three of them to be in a group talking school board business to be a meeting.
Now it's just the majority of the group is needed to be a meeting. So now it takes four members to hold a meeting.
"The main thing is any violation takes four board members now," Supt. Paul Dorathy said. "It's not any less than that. It takes four to even consider any kind of violation. Then they have to be doing some kind of business, because four board members could be at a basketball game and not be talking school board business."
Part of the rule change also says four members of the board can be together in a group talking about anything but school board business. However, if they start talking business, it is a meeting, which could break the KOMA law.
"So four of us can get together anytime we want and visit about anything we want, except school board business," Bauer said. "We can visit about the weather or anything. It made it clear to us what is acceptable to talk about and what is not. We know that we can all go to a party, but we can't huddle up in a corner and talk school board business."
Other business last week was minimal for the board. Dorathy presented an organizational chart for the district office staff. It included each person's duties and grouped them together into six categories: superintendent's office, financial, technology, maintenance, food service and transportation.
"As one of our goals, the board has talked about us setting up the structure and how the district office personnel would be organized," Dorathy said. "So we came up with this organizational chart which shows what all their duties are and who people contact about certain things. The patrons and staff can use it to figure out who they need to contact about a certain question they may have."
Each department will be color coded on the chart, which should be available on the district's Web site after the September school board meeting.
"It will be on the Web site, but it's not up yet," said Dorathy. "We have some work to do on it. The board's first look at it was pretty positive. Before I put it on the Web site, I'll probably wait to see if there is any input back from the board at next month's meeting."
The final piece of business at the meeting was the personnel report. It was approved unanimously. The three resignations were Judy Wagner (food service), Denise Austin (food service) and Michelle Beerbower (transportation).
The hires included many organizational chairs and class sponsors. Some of the hires that didn't include those were Kelly Brown (Baldwin High School library clerk), Tony Schwager (BHS industrial technology), Heidi Skiles (BHS food service), Carolyn Davolt (Baldwin Elementary School Primary Center food service) and Connie Hadl (BHS food service).