Rookies could have impact for Baker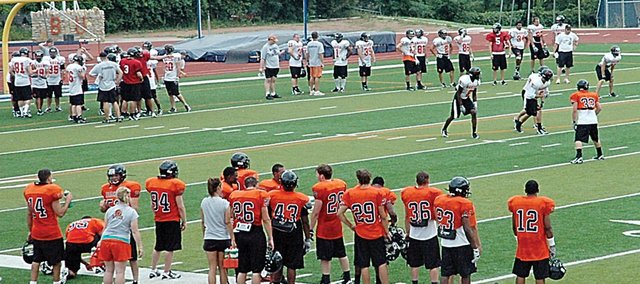 Rarely do true freshmen become impact players in college football, even at the NAIA level.
Yet Baker University coach Mike Grossner has two or three first-year players who could be listed as starters when the Wildcats open the season.
Most notable is John Babb, a Topeka High grad who figures to add some dash to what has been a pedestrian Baker rushing attack. The 5-foot-9, 175-pound Babb showcased his skills in his prep finale when he rambled for 285 yards and scored four touchdowns against Lawrence High.
"We feel we stole one there," Grossner said. "(Babb) should give us a home-run threat at tailback."
Another probable freshman starter is Ryder Werts, a first-team All-Sunflower League selection at linebacker last fall while at Free State High. The 5-10, 220-pound Werts looms as the likely replacement for graduated outside linebacker Brad Page.
"He's a tough guy with football savvy," Grossner said of Werts. "I like his demeanor, and he's coachable."
A third freshman pressing for a starting job is Patrick Mirch, a 6-1, 300-pounder from Bentonville, Ark., who is in the mix at center.
Another first-year player who projects as an offensive weapon is Tyrell Spain, a 6-3, 205-pound wide receiver who is also, curiously, a last-year player. Spain transferred to BU last summer from Nebraska University, but suffered a knee injury, had to sit out the 2007 season and is now a senior in eligibility.
"He's a one-year-only guy," Grossner said of Spain. "He's 100 percent now, and we feel he'll make an impact."
Grossner lists 16 returning starters - eight on offense and eight on defense - yet the Wildcats actually have nine defensive starters back now that end Andrew Patch has returned.
After two seasons with Baker - he was a second-team All-HAAC pick as a sophomore in 2006 - Patch transferred last year to Nebraska University, where he tried out for the football team as a walk-on. That experiment ended after one year, however, and the Shawnee Mission West High product is back in the Wildcats' camp.
Patch figures to bolster a defensive line anchored by the Weinmaster brothers - senior Philip (6-1, 252) and sophomore Kyle (6-1, 225), both Free State High products.
Another former Free State player on Baker's active roster is Jamie Resseguie, a junior linebacker. BU has one Lawrence High grad, Jake Lorenzo, a freshman offensive tackle.
Among Baker's key returnees are:
¢ Junior quarterback Mack Brown, a two-year starter who passed for 1,809 yards and 14 touchdowns in '07.
¢ Senior linebacker Spencer Curran, who led the HAAC with 124 tackles.
¢ Senior cornerback Eric Allen, a first-team All-HAAC pick who had five interceptions last season.
¢ Senior place-kicker Derek Doerfler, who was named HAAC Player of the Year after kicking an NAIA-record 23 field goals.
¢ Junior offensive lineman Clint Benge, a second-team All-HAAC pick.
¢ Senior wide receiver James Hensley, who caught six TD passes last fall.