For Roger, it was a learning experience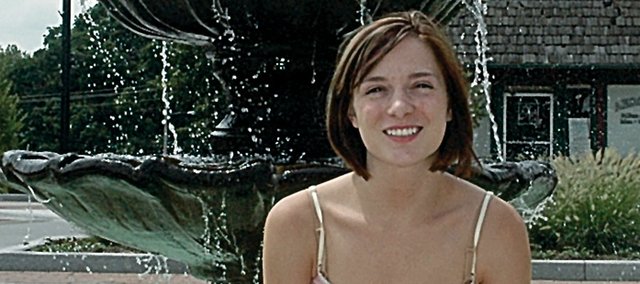 She may not have landed a role in the next installment of Disney's "High School Musical," but Maddy Roger, Baldwin High School senior, says she still plans to keep looking for a way to break into show business.
In April, Roger was selected as a participant for the ABC reality television series, "High School Musical: Get in the Picture." The show's winner earns a role in "High School Musical 3: Senior Year," which comes to theaters in October.
Roger was cut from the television show on an episode that aired near the end of July.
"Personally, I believe that talent was a very small part of the judges' decisions," Roger said. "They seemed to focus on characterization of high school roles and had an agenda in mind. Every single kid there was extremely talented, but their choices reflected their needs for the show."
Roger earned her spot on the show during an April talent show at Hickory Creek Barbecue, where an ABC crew set up to film participants. Although Roger says performing in front of the cameras was a bit nerve-racking, she apparently wowed the producers, who flew her to Los Angeles for the show.
Roger flew to Los Angeles from Washington D.C., where she had competed in the Poetry Out Loud National Semi-Finals.
She calls her experience on the show "a mixture of positive and negative experiences."
"We flew from D.C. to L.A. so not only was I quite jet lagged, there was a huge culture shock," Roger said "Also the days spent in L.A. weren't fun-filled adventures. I had a lot of spare time which usually consisted of waiting with nothing to do. On a more positive note, meeting all the kids from all over the country and competing was really enjoyable, even though it was stressful."
Roger competed against 29 other contestants from across the United States. During their time on the show, the contestants showcased their singing, dancing and acting talents. When the judges whittled the show's contestants down to 12, Roger was cut.
Although Roger admits she would have liked more airtime on the show-she was only shown in a couple scenes-she also said that she didn't regret her decision to participate.
"If I had the knowledge that I have now, I would do it again because I feel like I know what they were looking for," Roger said. "I would love to remain in show business for the rest of my life.
"However, this experience has taught me that it's a whole lot harder than it looks and that making it to the top would mean altering a life I cherish drastically," she said. "Though I intend to pursue a career in the performing arts, I refuse to let it change me."
Although Roger said the show didn't help her to hone her performing talents, it did teach her other lessons that she thought would be valuable in pursing a show business career.
"Being on the show was most definitely a learning experience," Roger said. "I learned a lot about what to expect when you're auditioning for a company that generally only produces a stereotypical character in their shows. I learned that you always have to accept the fact that there is a possibility of rejection and that you just have to look past it and move on."