Nighs thank district 'life savers' with gift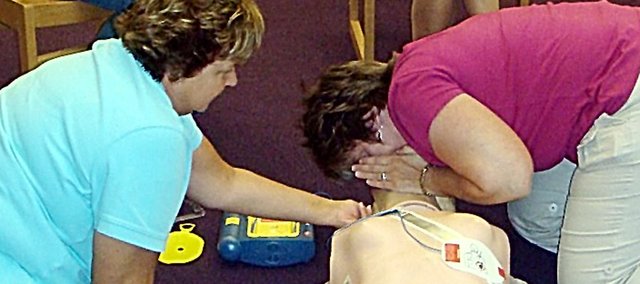 How does a person repay another for saving their life?
If you're Liz Nigh, you purchase two pieces of equipment that were used to save your life. She wanted to assist Ginny Honomichl in teaching the Baldwin School District staff how to save a life if they are ever faced with a life-threatening situation.
Nigh, a former secretary at Baldwin High School, and her husband, Jim, bought a pair of training defibrillators for the district. The two Automated External Defibrillator training machines are being used to teach (CPR/AED training) that Honomichl, a retired BHS teacher, is leading.
"My whole family took her CPR class and she expressed that she needed a couple of training machines," Nigh said. "Since she and the defibrillator saved my life, I thought it would be a nice thing to do."
Now those two AED trainers are being used to teach others how to properly use the machines. According to Honomichl, the trainers are exactly like the real machines, except the pads that are placed on a person's chest don't produce an electrical shock and can be used over and over.
It also allows the students to try eight different real-life situations that could occur during an emergency. Last Thursday, staff members at the Baldwin Elementary School Intermediate Center were put through classes on how to use the machines.
A total of 20 staff members went through a pair of classes. Honomichl was impressed with how quickly they learned and how they weren't afraid to try the training machines.
"It's like reality training," she said. "The staff was so excited to realize how an AED machine works. They weren't terrified to use it. To be able to use the trainers really eased their anxiety about ever having to use one in real life. It tells you exactly what to do step by step and they learned that."
An AED machine was nearly used on Nigh about two years ago. In early December 2006, Nigh had an incident that sparked her interest in helping the district.
While working at BHS, she suffered a heart attack. Several members of the BHS staff, Activities Director and trainer Gary Stevanus and Honomichl rushed to her side. After performing CPR on Nigh and not seeing any positive signs, the group decided to use the BHS AED machine.
However, seconds before using the machine, paramedics rushed through the BHS office door. The paramedics took over and took Nigh to an area hospital.
"Bless their hearts, Gary and Ginny, or I wouldn't be here today," Nigh said. "It's truly a miracle. I thank them every day of my life.
"I'm doing great today, thanks to them and the defibrillator," she said. "I'm basically back to normal. I miss the school like crazy."
Since that traumatic day, Nigh and members of her family have learned how to operate an AED machine in case of an emergency. She isn't afraid to use a defibrillator anymore.
"It's like a fire alarm, because you are afraid to touch it," Nigh said. "I wouldn't have ever opened the door to get that out before I took the classes. Now I can use it. It's important that everyone knows how to use one. You can save somebody's life, like they saved mine."
All six district schools have an AED machine. The district office doesn't have one, but the building is connected to the Baldwin Elementary School Primary Center. Honomichl is teaching the classes for the building staffs and the rest of the district employees.
"Eventually everyone in the district will know how to use one," Honomichl said. "Every building has one, so everyone must know how to properly use one and that's why we have the trainers now."