Vehicle linked to Florida homicide found abandoned near Tonganoxie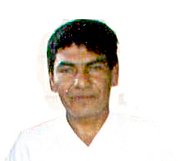 The Leavenworth County Sheriff's Office is in search of a person of interest in a homicide that happened Wednesday or Thursday in Orange County, Fla.
Leavenworth County Sheriff Dave Zoellner said the person of interest is Ricardo Castro, a 50-year-old male who also goes by the alias of Manuel Ortez Orceoga.
A vehicle registered to the victim was found Sunday near 198th Street and Sandusky Road, which is east of Tonganoxie.
Zoellner said property owners in that area reported the vehicle being abandoned in one of their fields. When officers investigated the vehicle, they ran the vehicle's license plate information. At that point, the vehicle was found to be stolen and belonged to the victim. The Orange County Sheriff's Office has issued a murder warrant for Castro's arrest, Zoellner said. The victim was said to have known Castro by his alias. Fingerprints at the crime scene later were found to match Castro, Zoellner said.
Zoellner said the suspect, on Saturday, failed to pay the toll at the East Lawrence terminal on the Kansas Turnpike. The toll worker requested the man's name and he presented identification with the name Manuel Ortez Orceoga.
The worker asked the man to pull the vehicle over until a Kansas Highway Patrol officer could arrive. Before the officer arrived, the man drove off. It is normal procedure to notify an officer when drivers are unable to pay the toll, Zoellner said.
It earlier was reported that the toll worker took down the vehicle's license plate information, but the worker actually did not, Zoellner said. However, the worker did see the vehicle turn north onto U.S. Highway 24/40/59 from the turnpike interchange.
The victim was believed to be a girlfriend or acquaintance of the person of interest, Zoellner said. The man's last-known address also is Kansas City, Kan.
The man, who is Hispanic, is 5-3 or 5-4, 140 pounds with slim build. He has dark hair and parts it in the middle, and has "striking green eyes," Zoellner reports.