Re-enactor breathes new life into abolitionist John Brown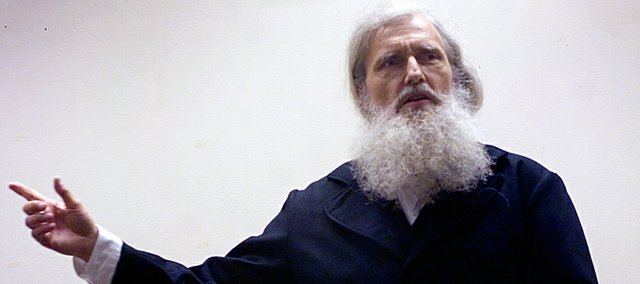 With his full gray beard and long black coat, Kerry Altenbernd seemed to step effortlessly into the role of legendary abolitionist John Brown.
He paced the stage, at times pounding his fist on the podium for added emphasis, as he recounted the life of the controversial figure who holds a central place in the history of Lawrence and the state.
"I've seen at least three other people do re-enactments of John Brown," said Craig Sundell, commander of the local chapter of the Sons of Union Veterans of the Civil War. "This was, in my opinion, one of the best ones. It had details in it that even I, who has studied the Civil War for 20 or 25 years, did not know."
Altenbernd, who is director of the Douglas County Law Library and a board member of the Black Jack Battlefield Trust, spoke to a crowd of about 50 people Sunday at Lawrence Public Library, 707 Vt.
His Brown portrayal was the latest in a series of events and activities that are part of Civil War on the Western Frontier series, which runs through Thursday, the anniversary of Quantrill's Raid on Lawrence.
"I thought I might come and speak to you today about my life and about my struggles against forces beyond me and forces beyond all of us," Altenbernd said as he began his portrayal of Brown.
Altenbernd took the audience through Brown's life story, detailing Brown's early introduction to slavery, his adulthood struggles to amass wealth, his exploits in Kansas and death following the 1859 raid on the federal armory in Harpers Ferry, Va., now in West Virginia.
In the end, "I realized I had misinterpreted my role; I was not to live to fight slavery," Altenbernd said in his portrayal. "I was to die to fight slavery."