School board eyes land south of complex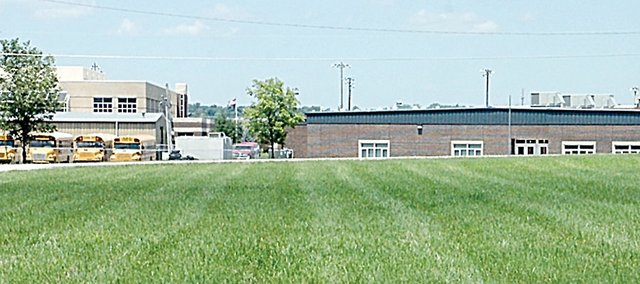 While no time frame is set yet, Supt. Paul Dorathy wants the Baldwin School Board to start planning how to use its most recent land purchase.
An area of 10 lots south of Baldwin Junior High School was purchased a year ago, but hasn't been developed by the school district. The school board wants to change that.
"We purchased the land with the idea in mind of making more room on the high school and junior high campus," Board President Alison Bauer said. "We had some questions about how the land could be used so, indeed, the report tonight gave us some ideas on how we could do that."
However, one large hurdle in the way is money.
"The problem, as always, is financing it, because we don't have the money," Bauer said. "We're going to look it over and see whether or not we should advise the superintendent to do."
At Monday's board meeting, Dorathy said the project would be funded out of the Capital Outlay fund, which already has a list of projects and a list of leases to pay.
The estimated cost of the project is $686,000. Jerry Thompson, from the Lloyd Builders construction group, gave that estimate to the board. He presented the information Monday after Kyle Trendel, of Devore and Associates.
Although the presentation gave Dorathy and the board an idea of how the land acquisition could be used, a timeline for building on the lot isn't anywhere close to set.
"At this point, all we are really trying to do is have a little look into the future of an idea," Dorathy said. "On whether or not this goes forward any time soon, will depend on a lot of factors. It may not happen for quite a while.
"It depends on what happens in the district over the next few years," he said. "It's something that we looked at and we felt like we needed to see a plan in order to even decide if it's feasible or not. At this point, all it is just a plan."
Trendel presented his concept of how the land might be used. The majority of the western six lots were drawn up to include bus parking for the 18 large buses and a storage facility. The eastern four lots would have the maintenance facility and parking for the smaller buses, minivans and other district vehicles.
The concept has 30-foot wide entrances, one on the north off Quayle Street and the other to the east off Wesley Street. The new maintenance building is designed to have four bays for vehicles, which is double what the current district building has.
Trendel then answered a couple of questions from board members. Board Member Scott Lauridsen asked whether Wesley Street was too narrow to have buses entering and exiting off of it.
"Since you will be maintaining a 30-foot entrance instead of a 24-foot entrance, you will be able to make those turns," Trendel said. "A lot of streets in this town are too narrow. It's not ideal, but I think it will work just fine with the times of day that you will be bringing buses in and out of that street."
Board Member Bill Busby asked about the metal building that lies at the south end of the lot. Dorathy answered that one.
"Bill, to answer your question, it's presently being used by the recreation commission for storage," Dorathy said. "That's how it's being used right now, but that doesn't mean it will stay that way. We may use part of that for storing materials away from the weather. It's up to you guys to decide how that building will be used in the future."
Another concern was the Safe Routes to School Grant, which is proposed to use the alley that runs in the middle of the lot. Lauridsen asked about that, but Trendel said he talked to Baldwin City Administrator Jeff Dingman and Dingman said it might make more sense to move the route over to Wesley Street. Lauridsen wanted to look further into this issue.
"We are going to go back and ask the question about if we make any changes to what we proposed will allow us to participate in the grant," Lauridsen said. "I assume we are going to have to specify what those changes are. I was just concerned that might be an issue and so we're going to take a look at that."
The final issue at hand was the closing of Kibbee Street, which is plated to run east and west just south of the district's land. The street isn't built but if the district would agree to have it closed permanently, it could never be built, which is what an adjacent landowner has proposed to the district.
"The adjacent land owner would like it to be closed on the other side," Bauer said. "It's not a street right now, so they were asking our opinion on closing it. If neither of us need it, the city closes the right of way."