Fabulous fair run for No. 101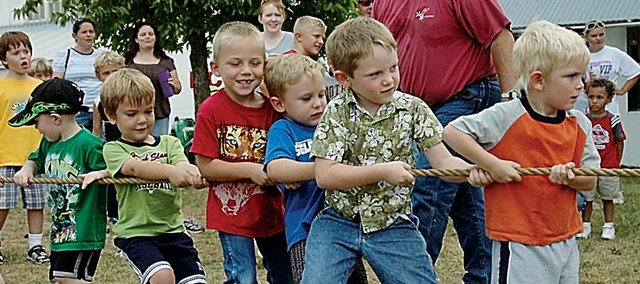 A second century of the Vinland Fair unfolded last week with the same results - the crowds came, fun and food abounded.
"I think it was just a success," said Julie Craig, president of the fair board along with her husband, Mike. "We hope it continues another 100 years. I don't see why not."
The 101st Vinland Fair opened last Thursday and drew flocks of people each day to the Vinland Fairgrounds for its three-day run. Even the Saturday rain didn't hamper the event and the cooler temperatures were welcome.
"This is awesome," Craig said of the break in the heat that was experienced. "We didn't mind the little rain on Saturday. Farmers need it."
The rain altered plans a bit, but not much.
"The line for homemade ice cream Saturday was so long you couldn't tell anyone stayed home because of the rain," she said. "We moved the pedal tractor pull inside because of the rain. It was different and fun."
For the centennial event last year, hot-air balloon launches were added. That was continued again this year and had good response, especially to Friday night's launch that had the biggest audience and the most balloons.
"We always have people ask about the balloons," said Craig. "We hope that continues."
For first-time balloon rider Autumn Eckman, it was a thrill.
"The views are so amazing and it's so peaceful and calm that I could have ridden in just about any of them," said Eckman. "For my first time, that was a perfect night. My mom and husband went up for their first times Saturday, but it was cloudy. They still loved it though."
There were a couple of minor problems with the launches. The Saturday morning event only had one of six balloons go up and Saturday evening's only had three. That was because of the rain, she said. If the balloons get wet, it causes problems.
Also, the fair book schedule listed the launches as Saturday morning and evening and Sunday morning. Instead, the launches were Friday evening and Saturday morning and evening.
"I think it was just miscommunication," said Craig. "It was touch and go Saturday on whether they could go. They can't get those wet."
Other than that, the fair went smoothly. That was the result of the many volunteers that make the annual event what it has become over the century-plus.
"It's just great how the community comes together and supports us," she said. "We always have people come up to the food booth and say 'we know how much you work, but we love the fair.'"