Brad Canterbury conquers Okoboji marathon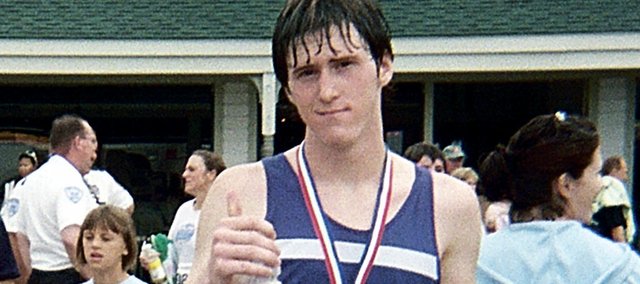 Brad Canterbury won't have to worry about beginning the cross-country season with a large enough mileage base when practice begins Monday.
That's the one thing coaches look to see when the season starts. They want to know if their runners have added up the miles over the summer. This senior at Baldwin High School won't have to worry his coach.
"Brad will now take that mileage that he has built up and turn it into some speed work once the season begins," BHS cross country coach Mike Spielman said. "He doesn't have to worry about his base at all."
One simple reason can explain his high mileage base this summer. Well, 26.2 miles worth of reasons to be exact.
Canterbury joined the recent craze to hit Baldwin City as far as running is concerned. He ran a marathon in Iowa in July. He ran it for his training, his BHS senior project and for himself.
"I've rested up since running the marathon," Canterbury said. "I'm going to start training this week a bit before Spielman takes me for the cross country season."
Canterbury gained a large mileage base for the fall season with his six or seven weeks of training during June and July. That wasn't the only advantage he gained from this marathon experience.
He also has a head start on many of his fellow classmates when it comes to the mandatory BHS senior projects. The projects are required for graduation and they require seniors to complete a project, write about it and then make a presentation to a panel of listeners.
His physical part of the project is completed. The thought of that being out of the way, has Canterbury excited to start his senior year as a Bulldog.
"For your senior project, you show the community how you've improved and grown as a person," Canterbury said. "You show yourself off pretty much. That's pretty much what I did with my marathon. I proved I am an individual who can strive, push myself and achieve a goal that is hard. It's pretty big. It's really nice to have my project done early. The physical part is done and that's what I was most afraid of."
Self-motivated running
Much like the senior projects at Baldwin High, Canterbury's marathon training was primarily motivated by himself. He didn't have any training partners, but some BHS teammates did join him for several runs during the summer.
However, most of his longer runs - between 15 and 18 miles - were done alone and on all-to-familiar roads around Baldwin City.
"It's incredibly hard, because you have to be completely self-motivated the whole time," Canterbury said. "You don't have anyone but yourself and you get bored. You're running for an hour and a half or more and you get bored. You also run the same route, because it's the only one you know is that certain distance. You look at the same things over and over. You might see a different turtle on the road or something. It's hard to run by yourself."
One advantage he had over most people who begin training for a marathon was he had a large mileage base beneath him when he started training. He completed a three-month season of track at the end of May. Then four days later, his marathon training started.
In fact, Canterbury even surprised himself how fast his first truly long run went one day early in June.
"I took four days off after the track season," he said. "Then I started training for the marathon right after that, so I had a huge conditioning base to work up to this marathon with, which really helped. One of the first long runs I did was 15 miles and I ran it at about 7:30 pace. I wasn't sure how I did that."
Some friendly advice
Before stepping on the starting line for his first-ever marathon, Canterbury admitted to being very nervous. He had good reason to be. It was his longest run by nearly eight miles, it was stormy weather all day and he was the second-youngest participant in the race around Okoboji Lake in Okoboji, Iowa.
With a small pack on his back filled with bananas, gel packs and other snacks for his run, Canterbury met a man who would soon become his friend for 20 miles.
"I walked up to this old guy and after talking to him, he told me that he'd run the Okoboji marathon every time it's happened - 31 times," Canterbury said. "He told me to take off my pack. I ran with him until mile 20. After the first mile, I dropped the pack. After that my mom gave me a gel pack or other stuff every four miles."
In fact, the pair ran together for most of the race. They started the race at an easy 9:30 per mile pace. After two miles at that pace, they increased to about a 9:00 pace for eight miles. During the next 10 miles of the race, they gradually worked up to an 8:00 mile pace.
At the 20-mile mark, Canterbury could feel himself beginning to slow down so he told his new friend to go ahead and finish on his own pace. Those 20 miles spent together are something he won't soon forget.
"He helped me the whole time," Canterbury said. "Throughout the whole race, he told me when to take water and without him, I wouldn't have broken four hours. He was incredibly helpful."
During the next three miles, Canterbury slowed down to almost a 9:00 pace. It was at that time in which his body had about had enough running.
"My wall was at mile 23," he said. "I hit the wall and both of my thighs cramped. Then everything started cramping. My pace went from an eight-minute pace to a 10:30-pace per mile. I was just cramping the whole time, up and down hills. The last three miles felt so long. They felt longer than the rest of the marathon."
Struggling through the final stretch of the race, Canterbury found it within himself to finish the grueling race. However, once he crossed the line all he wanted to do was collapse.
Instead of collapsing and making his body suffer further damage, his running companion was there to once again assist the youthful Canterbury.
"The goal was to finish," Canterbury said. "I knew I could have a pretty good pace, but I didn't know how fast I could run it. The main goal was to finish but I tried to run fast toward the end before I cramped.
"My legs locked up and I about fell down at the finish," he said. "I sprinted at the end and wanted to finish strong like an idiot. My legs were straight and I could barely walk after the race. It felt like my legs were stilts. I couldn't sit down, because I would cramp."
Canterbury finished 31st out of 101 participants in the race and second in his age group, 19-and-under. His time was 3:53:56, which was just under his goal of four hours. He even did better than some of the older participants thought he would do.
"All of the old guys around me told me I was too young to be running this, because my body wasn't developed enough and I would hurt myself," he said. "I did it anyway and I'm OK now."
Locals love running
Baldwin City has its fair share of marathon runners, some with more experience than others, but still more than a handful have competed in the grueling race.
Surprisingly, Canterbury isn't the only BHS student to compete in the 26.2-mile race while a Bulldog. In fact, he is the third to do it in recent years. During his senior year, Phil Wagner, a 2004 BHS graduate, competed in a marathon in Houston with 2002 BHS graduate Glen Stansberry.
In the fall of 2004, Kyle Lauridsen, 2005 BHS graduate, ran in the New York City Marathon. That was also for his senior project.
"It's becoming a trend in Baldwin City, I guess," said BHS teacher and coach Kit Harris, who finished his first marathon last fall. "It's cool how a lot of people in the community are trying to run marathons and putting focus on fitness."
Harris and his wife, Sarah, both ran marathons in 2007. Other local marathon runners include Penny Durr, Doug Woolery and his wife Tathiana. D. Woolery is a fifth grade teacher at the Baldwin Elementary School Intermediate Center.
The Baldwin City couple that has surpassed the rest is Steve and Annette Pierce. They have each completed 15 marathons, with their latest ones in 2005 and 2003.
"I loved all of the marathons, but I'm done," A. Pierce said. "I like all of them. If you're well prepared, the races are a lot of fun. You can't fake it. You're either well prepared for it or you're not."
Preparation wasn't a problem for Canterbury. Now he hopes his experience prepares him for a great final cross-country season. But asked if he'd race another marathon, he wasn't too quick to hop on the bandwagon.
"I'm thinking I might be one and done," Canterbury said. "I can't see into the future. I don't know what I'm going to do. Maybe when I'm 30 or something, I'll run another one again. I'm not sure I want to experience that pain again, though."