Protester takes stand in manhole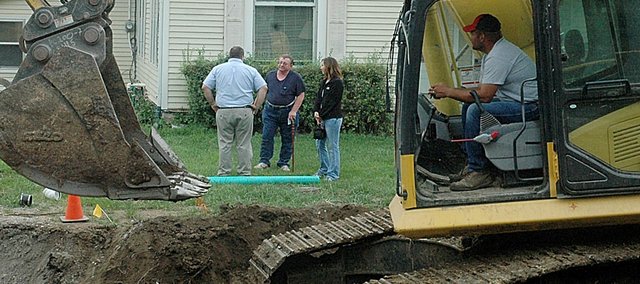 Bob Bigsby's protest of the Sixth Street sewer project didn't last long Thursday, but he got his point across.
Bigsby, with his broken back and all, climbed into the hole in front of his Sixth Street home at 7 a.m. and didn't come out until City Administrator Jeff Dingman got there at 8 a.m. to talk to him.
It kept work crews from installing the concrete manhole for a while, but it didn't stop the project.
"Doesn't look like it," Bigsby said of stopping the project that is replacing the old sewer line to increase capacity. "I could have held it up longer if I'd have stayed in the hole longer."
The city had a meeting with homeowners along the stretch of Sixth Street south of High Street regarding the $245,000 sewer project that is being done ahead of the $1.1 million street replacement project. Homeowners were told what would be done and where.
Bigsby says he was lied to by Bill Winegar, public works director, at that meeting and two other times regarding his trees and where the manhole would be located.
"He took out my 100-year-old tree and a 30-year-old tree," said Bigsby. "My cooling bill has gone up 30 percent. The air conditioner can't keep up on hot days. He lied to me three different times."
That's not what Winegar recalls.
"I remember that conversation differently," said Winegar. "I told him we'd try to save the trees."
Dingman explained the problem.
"Bill told him we would re-evaluate the route of the line in order to save the trees," said Dingman. "The sewer line had to be 16 feet deep right there and going around the tree you would still have to dig that deep right next to it.
"It would severely undermine the tree, with the potential it could even fall over," he said. "We looked at boring underneath it, but it was not feasible to bore that deep to go under the tree due to the expense involved."
As for the manhole, Bigsby says he was told it would be north of his property, not in his driveway. When he got home Wednesday night and saw the hole, he was more than surprised.
"That's what got me mad," said Bigsby, who then came up with his protest plan. "Broken promises again. Winegar told me three different times that manhole would be north of me. I'm not too happy with the city right now."
Again, the city disagrees.
"It has been in the plans to be right there since the inception of the project," said Dingman. "That manhole is replacing a manhole that currently is in the middle of Sixth Street."
The new manhole is immediately east of the old one. The whole sewer line is being moved out of the street and into the right-of-way. The manhole will be in Bigsby's driveway, which isn't uncommon and will be flush with the surface and not an obstruction, said Dingman. Bigsby's getting a new concrete driveway - free of charge.
"Bill has not had a discussion with him about the placement of the manhole," he said. "Bills' recollection of any conversations with him had to do with the tree issue."