Vinland Fair ready to launch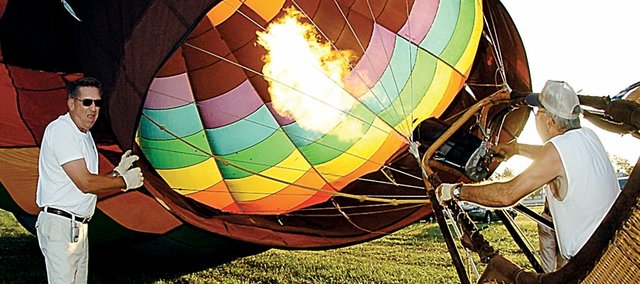 With the dog days of summer in full swing, the 101st annual Vinland Fair is fast approaching. The festivities begin Thursday morning and end Saturday evening, although one event will be Sunday at dawn.
Volunteers had their first official workday on Aug. 2, where they helped clean up the area and prepare the exhibits. They had another workday on Tuesday, during which they had the superintendents of different departments set up their tables.
"We're going to have a good old time, just like we always do," said Julie Craig, who serves as president of the fair along with her husband, Mike Craig.
This year will see the return of events such as hot-air balloon launch, which organizers introduced last year. There will be five or six balloons this year and the launches will be held Saturday morning and evening as well as Sunday morning.
But there's one feature of last year's fair that organizers hope won't be returning - the sweltering heat.
"The temperature was in the 100s last year, and we don't want that again," Craig said. "The forecast is looking pretty good, though."
According to the National Weather Service's forecast, the temperature during the fair should average in the mid-80s, down from the temperatures of recent days.
Even if temperatures were higher than forecasted, Craig said there would be ways for fair-goers to avoid overheating.
"We're going to have a big tent set up and other places where people can get in the shade," Craig said. "There are also plenty of trees around for shade. Just make sure to drink a lot of water."
This year will see the return of the tractor-driving and backseat-driving competitions, which were sidelined last year during the fair's centennial anniversary.
The fair doesn't include a carnival or other common features of county fairs. The fair is almost the same as it was when introduced more than a century ago. All the food at the fair is homemade, with homemade pies served throughout the day and a homemade ice cream competition on Saturday.
"I've never been to anywhere else like it," Craig said. "We don't have a carnival, we don't have advertisements, we just have a fair."
Allen Osborn, the fair's vice president, echoed Craig's sentiments.
"It's not commercialized," Osborn said. "There's no one peddling the next greatest kitchen invention. It's just like a big family picnic."
Craig and Osborn also both agreed that the fair provided a great place for children. There are children-oriented events, such as sack races and softball throws, held everyday.
"People come down and bring their kids with them," Osborn said. "Nobody has fears about letting their kids go loose, that's how I feel as a parent. It's a safe environment for kids to come out a have a good time. It's sort of like a last hurrah before school starts."
Osborn grew up going to the fair and said some of his favorite childhood memories came from attending.
The fair also brings members of the community together, Craig said, giving people a chance to interact with one another.
"It's a good way for people in the community to connect and meet their neighbors," Craig said. "People don't see neighbors like they used to."
Craig said that the tractor pull, which is held on Friday this year as usual, is always one of the most popular events for the show. She also listed the tractor obstacle course, the live music and the food as among the fair's biggest draws.
Craig began working with the fair 26 year ago after marrying her husband, a lifelong resident of Vinland.
"We just want to keep continuing the fair," Craig said. "It's a good feeling to see everyone come and enjoy it."