Track of another sort
BHS

coach, wife enjoy driving experience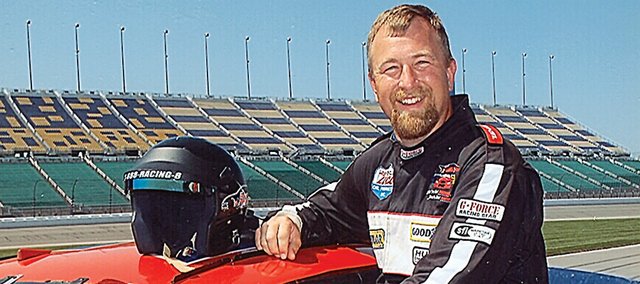 Track has been a part of Mike and Angie Spielman's lives for decades.
Both were decorated high school runners in Kansas and went on to have success as collegiate competitors at the University of Kansas.
Now, they are both coaches in the Baldwin School District. Mike's success is well known as the Baldwin High School cross country and track coach as his teams have won 15 state championships.
All those years of experience of racing around an oval couldn't help them a couple of weeks ago. This time they were facing the 1.5-mile tri-oval known as the Kansas Speedway and they were strapped into stock cars.
"It was just a great experience," Mike said. "It's something I'll remember for a long time."
The Spielmans participated in The Racing Experience, which travels around to different tracks around the country. The company provides an experience that is similar to the professional racing experience, without actually racing.
It was an all-expenses paid trip for the coaches a couple of Sundays ago. The BHS cross country team and parents paid for the experience. They gave the Spielmans the gift at their annual postseason banquet last fall.
"At first we couldn't think of anything to give to them and we wanted it to be a memorable and meaningful gift," said Heather Garcia, a senior on the BHS team last fall. "After a lot of thinking, one of the parents came up with the idea of them going to the race track and racing. Once it was suggested we knew it was the best gift we could give them. Plus, no one has given a gift like that to them so we knew it would be unique."
The gift came as a complete shock to the Spielmans as it cost nearly $600. Being NASCAR fans, the gift was one neither will forget.
"It was just such a unique gift and something you don't think about," Mike said. "We were both excited to get a different experience of NASCAR.
"We're so thankful the kids and parents got it for us," he said. "It was a really neat deal and they were thinking of something different and out of the box. It was something that will help us remember that team."
Start your engines
The package deal that was purchased allowed for Mike to drive 10 laps and Angie to ride six laps with a professional driver. After a 45-minute drivers' meeting, Mike waited for his chance to get behind the wheel.
He was one of 32 drivers that drove that afternoon. When his turn finally came, Mike admitted he was slightly nervous.
"Yeah, I was a little nervous, but part of it for me was them strapping me in so tight," Mike said. "Once you started driving, you just focused on the things you have to do and the places they taught you to be. You didn't realize how fast you were going once you started driving."
Once he was given the green flag, the pedal went down and the car took off. However, it was a different feeling than he thought.
"The cars are very powerful when you step on the gas," Mike said. "It's not a fast acceleration, but it's a powerful acceleration when you take off."
Once they left the pit area, Mike's driving instructor, who sat in the passenger seat, reached over and pushed Mike's right leg down. That's when the BHS coach realized the instructors want the drivers to drive fast like the pros.
"They push your leg down and told you they wanted to go fast," Mike said. "They want you to drive fast. The pretty neat thing about this experience is there are other cars on the track. You pass them or they pass you. They want you to go fast and get the real experience of what it's like out there. I'm sure everybody starts off tentative, but with only 10 laps, you don't have a whole lot of time. They get you up to speed in a hurry and get you going."
No speed limit
The drivers didn't wear headsets during the experience, but instead the instructors gave hand signals to them during the ride. Mike said his instructor wanted him to drive close to the wall to make it feel as real as possible.
Cones were placed on certain parts of the track to alert drivers to slow down or speed up. Since each 1.5-mile lap only lasted around 40 or 45 seconds, that's all Mike was instructed to watch.
"They have all of the gauges in the car, but you don't even look at them," Mike said. "All you're doing is looking at a spot at the end of the track that they tell you to look for. It gets there so fast that all you have time to do is look at the different points. You don't do anything else."
As the passenger, Angie was able to look at more of the speedway and what her driver was doing. She loved her experience.
"It was great," Angie said. "The best experience I've ever had. My driver was really good. What felt so fast was the corners, because your centripetal force was so high. He kept it down on the line pretty good for me. He could drive well.
"It felt that fast to me," she said. "Since I wasn't driving, I could watch what my driver was doing and I could take in more of the race track."
Another difference in their experiences was the acceleration speed when the ride started. Angie said her driver wasted no time in getting up to proper speed on the track.
"I know my guy was breaking the speed limit on pit lane," Angie said. "We were up to speed by the time we got on the apron. We were already in fourth gear. He was rocking and rolling on it."
One true racing aspect both Spielmans were able to experience was the passing of another car. They were different in how they happened, but both enjoyed passing while driving around 160 miles per hour.
"It happened so fast," Mike said. "They were right there all of a sudden, because they were on their early laps. You go right by and you don't hardly notice they were there."
"When I went, they had two cars going at once, so the drivers kept passing each other back and forth," Angie said. "We would get behind the other car, draft off them and then pass, which is more like a real race."
Angie's driver reached a top speed of 172 mph, while Mike topped out at a 162 mph when he was behind the wheel. Despite reaching that speed, he said it never felt like he was driving that fast during his 10 laps.
"It was hard to tell, because you're going slower in the corners but in the back stretch you could tell you were going a lot faster," Mike said. "You mostly listen to the engine, because you don't look at your gauges. You're so focused on what's in front of you, so you don't see the fence or wall going by that fast.
"You know you're going fast, but the neat thing about the cars is that when they turned, you never felt like you were sliding or anything," he said. "You were just concentrated on running your circle. It doesn't feel like you're going that fast, because of the way the car is built. It doesn't feel like a car going down the highway where things are out of control."
If he had the chance to drive again, Mike said he would try to drive closer to the wall since he said the first time was a learning experience. For Angie, a return trip would be for one reason.
"I want to go back and drive," Angie said.