Enrollment increase apparent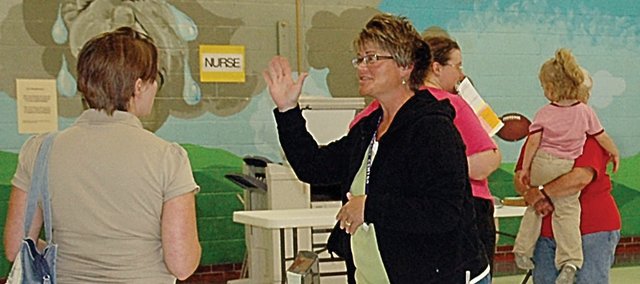 A steady stream of parents and students flowed through all six Baldwin School District buildings on Friday and after some quick calculations, it seems the district enrollment numbers might be up this year.
Of course, the numbers are preliminary at this time, as the official numbers aren't figured until Sept. 20. However, as of now, the district's enrollment figures appear to have increased from a year ago.
The school with the largest increase might be Baldwin High School with 434 students, up from 400 last year. One main reason is a small class graduated and a large freshman class is entering BHS.
"We are up more than we anticipated we would have been," said Bret Jones, BHS assistant principal. "We still have a couple weeks to sort everything out and see how many show up on the first day."
Most other schools in the district appear to be up a few students right now and are hoping for a couple of more students to enroll. One of those is Baldwin Junior High School, which ended the past school year with 328 students, but had enrolled 336 as of Tuesday.
BJHS Principal Connie Wright said her school has increased about eight students because of new students in the district. The BJHS staff pre-enrolled 160 students before Friday's district-wide enrollment day, which made for an easy day last week.
"Friday was excellent," Wright said. "It was a calm, relaxing day. We liked it. It gave us a chance to sit and visit with a lot of the parents as they came through and enrolled their children."
Both rural elementary schools are up a couple of students, while the pair in town are holding steady. Vinland Elementary School has 87 students enrolled, but might have a few more before classes start next week. That number is about average or increased a couple from last year.
Marion Springs Elementary School enrolled 124 students as of Tuesday, which includes 32 4-year-old students. A year ago, MSES began the year with 122 total students.
The Baldwin Elementary School Intermediate Center staff enrolled around its average of 220 students so far. It lost a large fifth grade class and gained a smaller incoming third-grade class. However, it has gained about 15 new students.
"I would guess in the end, our numbers will hold steady," BESIC Principal Tom Mundinger said. "We should be about our normal numbers."
Much the same can be said for the Baldwin Elementary School Primary Center this year. Principal Deb Ehling-Gwin said her school's enrollment was 244 on Tuesday, which is down about 10 from a year ago. That number does include a 4-year-old class and PEP classes.
She does expect several more students to enroll and for the school's enrollment to increase from a year ago. Like other administrators, she said Friday wasn't a crazy enrollment day like in previous years.
"It went very smooth. We had lots of people in on Friday and others came in Monday that were out of town Friday," Ehling-Gwin said. "It was a nice day."
BHS also enjoyed a nice, steady stream of visitors Friday. This year, the BHS staff changed the way parents and students proceeded through the lines.
"The staff looked at what slowed people down during enrollment and made some changes this year," Jones said. "We have so much information to get out to parents and students about different clubs, teams, lunch, parking and other things that some parents have heard it takes a while to enroll at the high school.
"So this year, Casey Morford set up a payment program for us to use on the computers and it was a lot faster than writing everything down or using calculators," he said. "The office staff here at the high school loved it and they did a wonderful job of making enrollment go smoothly."