County fair thrills local 4-H'ers again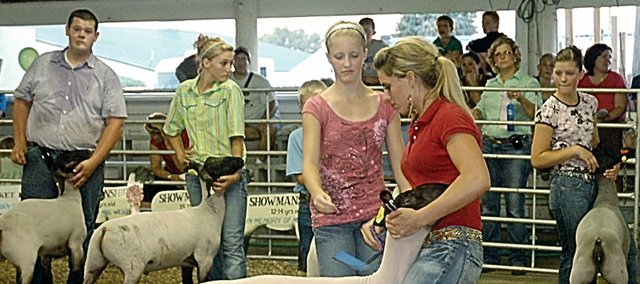 Sunday ended another successful year for Baldwin City area youths at the annual Douglas County Fair here.
Once again, the local 4-H groups brought home numerous ribbons and honors. The largest honors included grand champion animals, food entries and other contests.
One of the biggest winners from the Baldwin area was MacKenzie Flory, a junior at Baldwin High School. She earned several champion honors, while enjoying the fair as she does every summer.
"I enjoyed the fair, except for the heat," Flory said. "I had a lot of fun and had a successful fair."
Her fair was quite successful. In the beef show, Flory won champion Angus heifer, champion shorthorn heifer, reserve supreme heifer and level four showmanship.
In the sheep show, she won champion Suffolk market lamb, champion natural-colored market lamb, grand champion overall and reserve champion level four showmanship.
"This year my brother (Caleb) and I both placed in both the market hog and lamb shows," Flory said. "It was neat, because we both did and neither of us have before. I got grand champion market lamb and my brother had reserve champion market hog overall. So it will definitely be a fair that our family will be remembered for a while."
Of course, Flory was just one of the local 4-H'ers to have success at the annual county fair. Many others earned honors in other contests such as the hog show, food preservation, cooking, photography, rocketry and even electricity.
One of those 4-H'ers that had success this year in something outside the animal realm was BHS sophomore Ethan Horne. He won grand champion in electricity and earned the reserve grand champion in rocketry.
"I enjoyed the fair a lot this year," Horne said. "It's a lot of fun doing it every year. It's fun to bring stuff and have people judge it."
Another successful local 4-H'er was Courtney Harris, who graduated from BHS in May and will be attending Ottawa University. Harris entered several contests and came away as the grand champion in food preservation and champion in sweet spreads with her pomegranate jelly. She also had a reserve champion on her Hampshire hog.
"This year's fair was great and I had a lot of fun," Harris said. "It was one of the best ones I have been to and I am very happy that I got to see my fair buddies from all over Douglas County."
While the 4-H'ers enjoy the contests and the animals shows each day, most of them will admit their favorite part of the annual event comes near the end of the week. It takes place at a watering hole one evening as the fair is winding down.
The annual water fight is enjoyed by everyone that participates and is one of the most highly anticipated events each year.
"My favorite part of the fair is the water fight," Horne said. "It's a fun time and it's one last time to see friends that I only see once a year."
However, for someone like Harris, who was trying to avoid participation in the water fight, it's not always so enjoyable. Despite being dragged into it, she still had fun.
"It's always really fun," she said. "I wasn't going to join this year, but they drug me in and soaked me. So my plan didn't go so well."
The fair ended Sunday afternoon with the annual auction. After having time to reflect on the busy week, Flory said the work she puts into the fair each year is rewarding.
"Overall, it's a fun time where you get to see your friends and hang out, but it's hard work," she said. "After it's all said and done, you feel good getting to show off all the work you've put into it. It's rewarding, though, knowing all your hard work paid off."
For those like Harris, Sunday ended their runs in Douglas County Fair. She was happy to have participated for so many years.
"I am very sad that this is my last year and it was my last time showing pigs and entering in the fair," Harris said. "But I am very proud to have been a 4-H'er and wouldn't have changed being in it. I encourage all to join and learn to enhance themselves."