Animal auction wraps up fair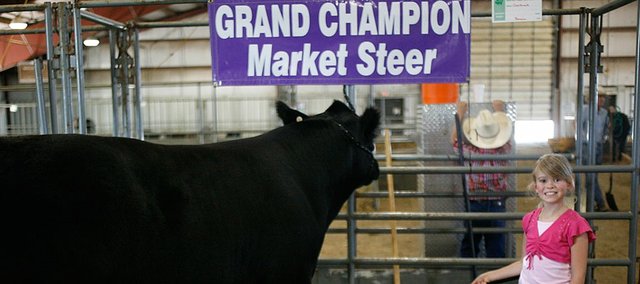 Nine-year-old Grace Baxter had the beginnings of a knot in her stomach when she paraded her grand champion market steer, Chico, in the sale ring of the Douglas County 4-H Fairgrounds' Community Building.
But it lessened as buyers shouted bid after bid in hot competition for Chico, who sold at a $5,000 premium, on top of a base bid of $1,209.
For Grace, a member of the Palmyra 4-H club, it was the perfect way to wrap up a year of raising the 1,374-pound Angus-Chi steer.
"I had no clue I was going to get grand champion," she said. "I was like, 'Oh my gosh, I can't believe it.' It was pretty exciting."
Large fans offered some relief to the hundreds of people attending the livestock auction on a hot day at the fairgrounds, the final event of this year's Douglas County Fair.
The auction featured 134 steers, pigs, lambs, sheep, chickens and rabbits. The base bids for animals were priced at market values, while premium bids represented a bonus given to 4-H'ers.
The final auction raised more than $132,265. Last year's auction raised $138,651.
Bill Wood, an agricultural agent for K-State Research and Extension, said the number of bidders was impressive during a time when the economy was slow.
"It's pretty amazing with the economy that way it is," he said. "It's nice that they spend it here."
For younger sellers like 7-year-old Griffin Wehrman, of the Palmyra 4-H club, the auction brought new excitement.
His pig, Dennis, was up for auction, and Griffin said he put a lot of effort into raising the pig.
"I've fed it, watered it and hosed it down," he said. His eyes lit up when talking about what he would do with any money he earned through premium bids.
"I'm going to buy a new four-wheeler," he said.
Photo by John Henry. Enlarge photo.
Reilly Stewart, 8, of Baldwin City, keeps a good grip on her sheep Sunday while waiting to sell it at the Douglas County Fair Livestock Sale at the fairgrounds. Reilly placed as a reserve grand champion in the sheep showmanship category this year, her first year showing. The sheep she showed weighed 109 pounds to her 40 pounds.
Grand Champions
¢ Grace Baxter, Overbrook, for a 1,374-pound steer, bought with a base bid of $1,209 and Lextron Animal Health, Kansas State Bank, American Angus Hall of Fame and John and Nancy O'Connor's premium bid of $5,000.
¢ MacKenzie Flory, Baldwin City, for a 131-pound sheep, bought with a base bid of $124 and Bayer Animal Health's premium bid of $1,150.
¢ Tracy Neis, Eudora, for a 260-pound hog, bought with a base bid of $143 and Baldwin Feed's premium bid of $1,200.
¢ Troy Stanley, Baldwin City, for the grand champion rabbit, purchased by Lewis Veterinary Clinic for $450.
¢ April Hostetler, Baldwin City, for a 79-pound meat goat, purchased with a base bid of $74 and Douglas County Auction Committee's premium bid of $450.
¢ Holly Vesecky, Baldwin City, for the grand champion meat pen of chickens, purchased with the Lawrence Chamber of Commerce's premium bid of $375.