Rolling dice raises $1,000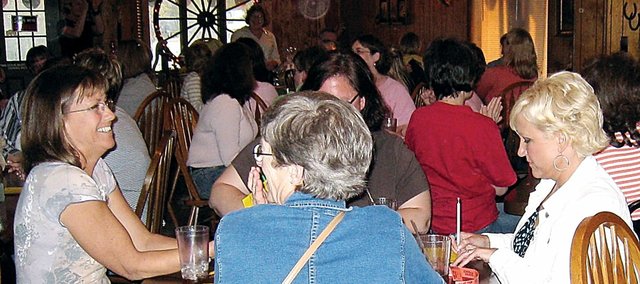 Enthusiastic shouts of "Bunko," a popular dice game, were heard last Tuesday evening at the Wooden Spoke. Reece and Nichols Premier Realty and The Wooden Spoke hosted "Bunko Night" and raised $1,000 for the Baldwin Education Foundation.
Cash prizes were awarded to the top three winners: Samantha Cheek for "Most Bunkos;" Cheryl McCrary for "Most Wins;" and Laura Lauridsen for "Most Losses."
"We were delighted by the turnout. I think everyone had a terrific time," said Kathy Gerstner, Baldwin Education Foundation executive director. "We had 14 tables of four - 56 players. There were nine businesses that were table sponsors. We had more than 40 raffle prizes donated by local merchants. We are so grateful to live in this generous community. The money raised will help support our students, faculty and staff at USD 348.
"Krystal Williams came up with the idea for the Bunko tournament," said Gerstner. "She and her agents and staff did a terrific job planning and gathering raffle items for the event. Aleta Cooper and the Wooden Spoke were instrumental in providing the location, great snacks and also terrific support."