Spring play packs a crowd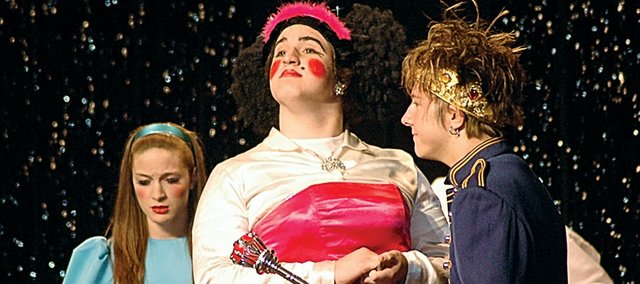 Baldwin High School's annual spring play went off without a hitch Friday and Saturday night.
This year the students performed a version of "Alice in Wonderland." BHS teacher and play director Michelle Kirk was pleased with the show both nights.
"It went really well," Kirk said. "I thought the students did a fantastic job. They looked sharp and they had fun. There was great response from the crowd. I was very pleased."
The play's star was junior Maddy Roger, who played Alice. She was also happy with the end result.
"The play was great this weekend," Roger said. "It went really well and it was good to finally be able to perform in front of an audience."
Kirk was impressed with her star.
"That was a lot of energy used," Kirk said. "She did well and I think we had a fantastic cast that was very even in their talents and support."
Before the play, Roger wasn't sure how she felt about being in every scene of the play. After it was all over, she now cherishes breaks during a performance.
"It was definitely tough," she said. "For me, the hardest part was being on stage almost the whole time. When you're in every scene, you don't exactly get potty breaks. I now consider them to be a luxury."
As for the aspiring young actor, she's not sure her latest role helped much with acting, but it did in another area.
"It's hard to say whether my acting skills improved," Roger said. "My character was the only normal one, so it wasn't much of a stretch. I think, perhaps, my memorization skills have improved, though."
Another large role in the play was the Queen of Hearts, which was played by senior Cameron Scruggs. His first appearance on stage brought a roar of laughter from the crowd. Kirk said he did a wonderful job portraying a woman in the show.
"I enjoyed him doing it, so I hope he had fun doing that as well," Kirk said of Scruggs. "He and Martin (Nelick, who played the king) really worked well off of each other. I think they just had that innate comic timing that made it work."
In the end, the actors and actresses enjoyed their time on stage both nights. Kirk was excited about her students' acting abilities and about the size of attendees each night.
"It was better attended than last year's show, so I am always pleased to see an increase in support," Kirk said. "I think it was a show that young and old enjoyed."
Although Roger liked both nights, Saturday was her favorite.
"I thought both performances went well, but I liked Saturday's best," she said. "It just seemed to flow better to me."