Offense, pitching dominate during sweep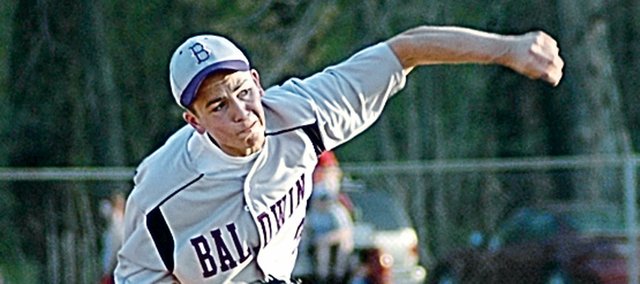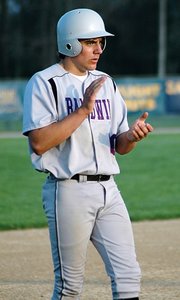 Paola — While Josh Hoffman continues his incredible freshman season, Zach Durr is trying to cement his legacy as a Bulldog.
Both Baldwin High School baseball players contributed to the sweep here Tuesday. Hoffman's offense won the first game and Durr's pitching dominated the second outing. After the dust settled, BHS was victorious over the Panthers 4-3 and 12-0.
"It feels pretty good to go out there and get two wins," said Durr, a BHS senior. "We played hard and it was a nice night."
The pair of Frontier League victories improved the Bulldogs' record to 5-6, which ties last year's record for number of wins. They have won four of their last five contests, with the only loss coming Monday at Anderson County. The game began last Thursday and was moved to Monday, because of weather. Baldwin lost 2-1.
However, the Bulldogs responded 24 hours later with its second straight sweep of a league opponent. In league games, they are 5-3 this season, with two wins over Louisburg and a solo victory against Ottawa.
"This was another league sweep, which I think will put us right up in the league standings," coach Brock Hartshorn said. "We are chasing Spring Hill, but we've got them late in the year. We have nine games left, six of those are league games."
Tuesday's wins were attributed to the entire BHS team, but it was Hoffman and Durr that created a buzz here Tuesday. In the first contest, the score was tied 2-2 in the top of the seventh inning when Hoffman hit the Bulldogs' first home run of the season - in an untraditional way.
Fellow freshman Kyle Pattrick stroked a double pinch-hitting for BHS. Hoffman followed him in the batting order with a deep shot to right field. The right fielder dove to make the catch, but narrowly missed the ball and it rolled into the corner.
By the time the fielder picked himself back up and tracked down the ball, it was too late. Hoffman sprinted around the bases and slid into home plate with ease.
"I don't think I've ever seen it," Hartshorn said of the inside-the-park home run. "I know in my coaching and the 10 years I've been around high school baseball, I've never seen it. The kid dove for the ball, missed it and it rolled to the fence. We had a burner on base in Josh Hoffman. He could have gone in all the way standing up."
After the game, Hoffman was humble about the play that had Bulldog fans buzzing.
"It felt pretty good. I didn't think I was going to get very many bases, but we took a chance and sent me home," he said. "It worked all right."
For the game, Hoffman was 3-for-4 with a home run, two RBIs and two stolen bases. He finished the night hitting 6-for-9 and earning five RBIs and four stolen bases.
Even though the Bulldogs' offense poured it on in the second game, it was Durr's pitching that impressed Hartshorn. Durr pitched the complete game of seven innings, while only allowing two hits and zero walks.
"Zach gutted one out tonight," Hartshorn said. "I don't think Zach felt very well. I told our younger kids, 'that's what senior leadership is all about.' When we were ahead 5-0 with Zach pitching, our kids' confidence soared."
As the BHS ace, Durr was even humble about his performance on the mound.
"My arm didn't feel too good tonight, so I had to gut it out and throw strikes," he said. "My defense made plays behind me. I was happy to only allow two hits. You have to be happy about that."
Durr had plenty of offense to assist his pitching. BHS led 6-0 after the second inning before cruising to victory. Three Bulldogs went 2-for-4 in the second contest. They were junior Andy Thurlow, freshman Landon Ausherman and freshman Nate Growcock.
"As young players, their confidence is soaring right now," Hartshorn said. "They feel like we can go out and win now. We got the first win tonight, then boom, 12-0."
Some of the players accredited their improved batting to the warmer weather Tuesday. Most of their outings have been played in chilly, windy conditions. Tuesday's games were played while it was 75 degrees and sunny.
"It's probably the first time that we've all been in short sleeves," said? "It's nice to get out there and play in actual baseball weather."
Hartshorn agreed.
"This was very nice weather tonight," he said. "For the kids, it's a lot more comfortable. They get more comfortable at the plate and you feel better out in the field. For pitchers, it's huge because you are warm all of the time."
If the weather cooperates, the Bulldogs will have busy week. They host a doubleheader against Wellsville today and a single game against Prairie View Friday. Then they host rival Eudora for a doubleheader on Tuesday. All games begin at 4:30 p.m. at the BHS ball fields.