Murphy-Brown reunion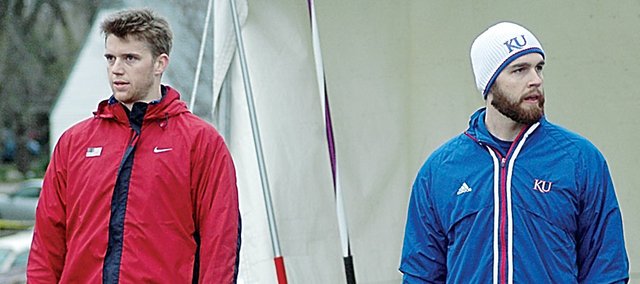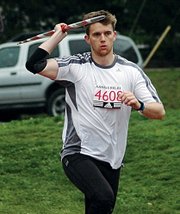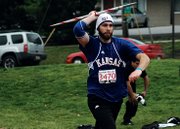 Lawrence — It took six years for the highly-anticipated battle to happen here Friday.
In the end, friendship and camaraderie won over competition.
A pair of 2002 Baldwin High School graduates, Eric Brown and Hugh Murphy, highlighted the Kansas Relays' men's javelin event. It was the first official competition between the two iconic Kansas throwers.
"It's nice to see some Baldwin alumni come back," BHS boys' track coach Mike Spielman said. "Even some Baldwin fans came out and watched. It was nice to see some of those guys that do well after high school and college that are still chasing a dream."
In high school, Brown and Murphy were household names around the state when it came to throwing the javelin. As juniors and seniors, they took first and second each year at the Class 4A state track meet. Each year Brown ousted his teammate, but they helped the Bulldogs win back-to-back team state championships.
"It's really exciting to watch both of them compete at this high of level," Zuzzio said. "They are still great friends and competitors and great throwers."
Six years ago, Brown and Murphy competed at the Kansas Relays for their final time as Baldwin High Bulldogs. Brown won the event, throwing 207 feet, 11 inches and Murphy finished runner-up with a toss of 196-8.
Friday night the results were similar, except the distances were much further. Brown placed second (247-5) and Murphy was seventh (212-10). Brown was competing unattached while Murphy competed for the University of Kansas.
"They are representing Baldwin well," said Ted Zuzzio, BHS javelin coach, on Friday. "They are doing Baldwin proud. It's a happy day to see them throw at the KU Relays. They both got the chance to medal here in high school and they're both medaling again here."
The two former Bulldogs did compete in a smaller meet during the summer, but Brown said it was more or less for fun. That was the only time they've competed together since their state meet in 2002.
"This is the first time I've thrown with him at a college meet," Brown said. "Last summer we threw together but it was at a fun meet and he wasn't throwing with Kansas. It was like a practice. So coming back here and knowing some Baldwin people were in the crowd is always fun. It was a good time."
After high school, Brown went to the University of Arkansas while Murphy headed out east to Brown University. Both were on track and field scholarships.
Brown competed all four years for the Razorbacks and set the school javelin record while helping the team win numerous conference and national titles. Murphy's collegiate career was much different. He had Tommy John surgery to repair his elbow while at Brown and only competed in a pair of seasons. He was given two medical red-shirts, but then two years ago, he transferred to Kansas, where he will finish his NCAA eligibility this season.
Both are now graduate students at their respective universities. Brown will graduate this summer, while Murphy will graduate from Brown with a bachelor's degree in May. To compete with his former teammate was exciting for Murphy.
"It's always good to throw with Eric, because we can watch each throw and help each other with technique things," Murphy said. "It's always nice to have someone in the competition with you. The relays are especially a lot of fun. I get to see so many people from Baldwin. It's a lot of fun."
Although their path to Friday's meet was drastically different, both throwers were pleased with their performances, but not completely satisfied with their final distance.
"I definitely would have liked to have thrown a little farther, but I'm happy I made the regional standard," Murphy said. "It's still pretty early in the year for me, too. This is the beginning of my training.
"I am still quite a bit under my PR, which is 225," he said. "It was good to be consistent, but I will hopefully get my distance up by the end of the year."
For Brown, he had his first meet to compare to Friday. Two weeks prior he threw 252 feet at an Emporia State University meet. Friday's best toss wasn't as far, but the conditions were worse.
"I am happy with it. I came up here knowing a lot of good guys were going to be here, so I was hoping that would push us all," Brown said. "I think everybody did pretty well today for the conditions. Anytime you compete in this, it's tough. So I am definitely happy with that.
"This was my second meet of the year and I threw a little short of my first meet, but that was a great opener for me," he said. "If you put them together I think they would be pretty equal throws. I think I am pretty satisfied."
The weather Friday evening made it difficult for all of the throwers. Temperatures were in the 40s, a slightly gusty wind and drizzle made it miserable for the spectators. The athletes were also forced to sit around during the event, which finished in the dark.
"That was probably the toughest part," Brown said of the conditions. "I am looking at my watch and it's 8:30 (p.m.) now and I think I started warming up at 5. You have to be in shape to be able to throw six throws. You get up for one throw, then you have to sit for 15 minutes. Doing that for more than three hours is probably the toughest part. The wind isn't a big deal, we are used to that. Being cold is not so fun."
Murphy agreed, saying javelin throwers prefer a warm, dry climate to perform in.
"The weather wasn't really great today," he said. "No javelin thrower ever wants to throw in the cold. We are like sprinters in that the warmer it is, the better. Your muscles are warm then and it's easier to pull things when it's cold. It's not the greatest conditions to throw in today."
The Kansas Relays was just one of many meets for the two former Bulldogs. Murphy will be competing for Kansas at several upcoming meets, including the NCAA region meet in late May.
"This is my third straight senior season," Murphy said. "The more practice you have at it, the better you get at being a senior. It's a little bit different being on the older end of things, but it's been fun."
Brown will be traveling to different meets around the country. One of those will be held in Eugene, Ore., which is the site for the 2008 U.S. Track and Field Olympic Trials in late June and early July. He will also compete at the U.S. Olympic Trials for the second time in his career. In 2004, he finished 19th.
"It's just kind of starting," Brown said of his season. "In May I get to go to Oregon and actually throw on the Olympic Trials track. So we get to see what the track is like before the trials. I was wanting to throw well here, but it was just a warm-up meet for the three big meets in May."