Board answers city concerns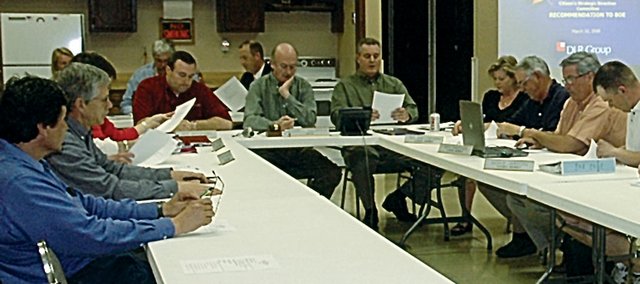 Baldwin City Council members had a first-hand look at the Baldwin School District's facilities' committee recommendation at Monday's joint meeting.
However, it wasn't until after the school board members left the American Legion Hall that they took the next step in working toward a bond issue. After a brief discussion about the joint meeting, the board decided to meet next week.
School Board President Alison Bauer has called a special meeting for 7 p.m. Monday at the district office. At the meeting, the board will listen to presentations by construction management companies and further discuss the issue after the presentations.
"If I'm going to decide between construction management companies, I want them to come in and make presentations," Board Member Bill Busby said. "But, I also want to know what school districts they have worked with. Not just the ones they tell us about, but all of them."
To begin the joint meeting, Supt. Paul Dorathy gave a brief presentation to the council and the packed American Legion crowd. He summarized the 10-month facilities' committee and its long-range recommendation to the school board.
Dorathy explained how the final cost of the bond issue recommendation was just shy of $22.3 million. He also said that price would cost a taxpayer, with a $200,000 home, $258 annually or $21.52 per month. However, those taxes won't be assessed until Nov. 2009 if the bond issue is approved by voters in November.
"At this point, this is a recommendation and that's all it is right now," Dorathy said. "They gave us a direction on what they felt was most important."
The recommendation included a new 480-student Baldwin Elementary School Primary Center and early childhood center. That building would include the BESPC students, the 4-year-old program students, Parents as Teachers organization and possibly Rainbow Experience Preschool.
Also included on the committee's recommendation was a new performing arts center. It would be around 10,000 square feet and would hold around 650 people at a cost of around $2.6 million.
Other items were the baseball and softball fields, practice track facility and technology and security needs. The last items were renovations to Baldwin Junior High School. Those renovations include a new roof and updated heating and cooling systems.
Some of the council members had questions about the possible bond issue. Council Member Tony Brown first asked a couple of questions to the school board. He asked if the current BESPC could be renovated and why does there need to be a new auditorium.
Board Member Ande Parks answered the questions. Parks was a member of the facilities' committee.
"I can speak as good as anyone," Parks said. "The primary center, quite frankly, has been neglected for a long time and renovating it wouldn't be cheap, but it would be cheaper. It wouldn't be heated or cooled properly and it wouldn't give us what we want a modern learning space for our students. The committee didn't feel it was worth spending that much money for renovating that facility"
He continued by also answering the question about the auditorium.
"I pushed that issue pretty hard toward the end of the committee meetings," he said. "It's true we are not gaining a ton of seats, but that's not what is needed for the education for the kids. The stage area is really lacking. The wing areas aren't big enough and it's not deep enough. The extra work to blow out walls to make the extra space isn't something we can do."
Dorathy also commented on the auditorium concern.
"We surveyed all of our high school students and the number one interest was performing arts communication," he said. "So my feeling is we need to expand our curriculum in that area and we don't have the space for that."
City Council Member Ken Wagner also had questions about the recommendation. He was concerned with expanding the sewer or electrical lines to the area where the new BESPC might be located, which is to the southwest of Baldwin Elementary School Intermediate Center.
"It looks like from a city council perspective, it's an infrastructure issue to me," Wagner sad. "Do we have enough electrical capacity to handle a building for 480 students? If phase 1 of the recommendation passes, do we have the infrastructure to handle all of that?"
Some of the questions were taken under advisement by the school board until they have more information.
Monday's meeting will begin at 7 p.m. at the district office.