BHS

teams compete at

KU

, Spring Hill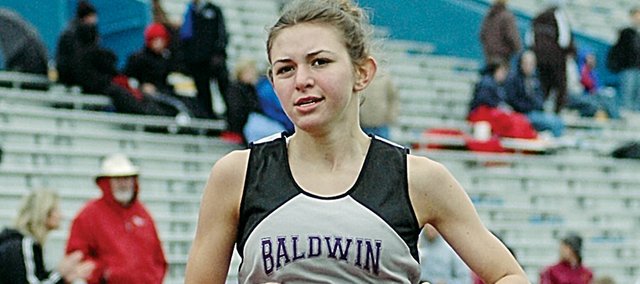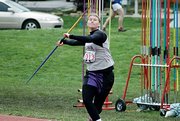 Thanks to a spring thunderstorm last Thursday, the once busy schedule for the Baldwin High School track teams was lightened.
With one less meet to worry about, the Bulldogs were able to rest up for the Kansas Relays and Spring Hill Invitational. Both meets produced positive results for the Bulldogs.
The week began with the Cardinal Relays at Eudora. Before the meet could even begin, lightning and rain forced meet officials to postpone the meet until Monday. Unfortunately, BHS was scheduled to run at Spring Hill that same day, so it never competed at Eudora.
"It's one of those deals where it is almost does more detriment to try and squeeze a meet in," boys' track coach Mike Spielman said. "We are at a point where we have to get some practice in. We move on and get ready for the next meet."
The next meet for Baldwin was the Kansas Relays in Lawrence. Several Bulldogs competed Friday and Saturday at the prestigious event that attracts talent from surrounding states.
Leading the way Friday morning was senior Courtney Harris. In her first trip to the meet, she placed sixth in the javelin. Her best mark was 127 feet, 2 inches, which is only one foot from her school record.
"I was really happy," Harris said. "I've never been there before so it was fun to get a medal. Most of the girls were from (Class) 4A so I will be seeing them again."
Three competitors ahead of Harris hail from 4A schools. They took first, second and third in the event. BHS girls' coach Ted Zuzzio was thrilled with Harris' performance on a cold, soggy day.
"I think she is the second girl javelin thrower we've had compete there," Zuzzio said. "She went against the state's best and I'm very proud of her for earning a medal. She was just a foot off of her all-time best."
The other BHS girl to compete at KU was senior distance standout Heather Garcia. During her first race, the 3,200-meter run, Garcia collapsed and didn't finish. After failing to finish a year ago, she was disappointed in herself.
"I thought I was ready to push my body that hard and I guess I wasn't," she said. "I just paid the price, but there's nothing I can do about that now. I felt myself get really dizzy and then I kind of shook. Then I fell down. I got back up and asked if I could finish and they said 'nope.'
"It was very disappointing, because this is my senior year and it happened last year, too," Garcia said. "That was the last thing I wanted to happen. There is nothing I can do about it now, except get stronger from it."
Garcia didn't run in the 800-meter run later that evening, but rebounded in the 1,600-meter run Saturday afternoon. In a race loaded with state champions from Kansas, Missouri and Nebraska, Garcia held her own.
She began the race in the middle of the pack and slowly moved up to lead the second pack of runners. After breaking away on the last lap, Garcia held off numerous competitors at the finish line. She finished fourth in a time of 5:06.62.
"I didn't want to take out really hard and then die at the end. So I made sure I was in the middle of the pack for the first lap and I just kept listening to coach (Spielman). He knows what he is doing. That helps a lot. I couldn't have timed my take off and the time to push myself any better. It all worked out really good. It's nice to finish fourth."
Although Spielman coaches the distance runners, Zuzzio was proud of Garcia for coming back and racing well Saturday.
"She ran a great race," Zuzzio said. "When you get down in the low 5s, you are someone special."
The BHS boys' team sent a trio of relays to the meet. On Friday, the 1,600- and 6,400-meter teams participated, while the 3,200-meter relay team ran Saturday. The 6,400 relay finished 24th out of 38 teams with a time of 19:53.40. The team members were senior Aaron Karlin, junior Brad Canterbury, freshman Carson Barnes and freshman Tony Weiss.
On Saturday, the 3,200-relay team placed 28th of 38 teams as it ran 8:34.14. Team members were senior Dustin Schiller, Karlin, Barnes and Weiss. The 1,600-relay team of senior Kyle Smith, junior Ryan Kennedy, Schiller and Barnes ran 3:37.16 and finished 40th out of 53 teams on Friday.
"I was really happy, especially on Saturday," Spielman said. "Friday was cold and the performances were OK considering the weather. Then on Saturday, I thought we stepped up and ran really well. The guys 4x800 had a great day and Heather's mile was great."
The 1,600-relay team improved its time at Monday's triangular meet against Spring Hill and Osawatomie. The Bulldogs ran 3:32.30 in one of the five events they won.
The other winners were sophomore Patrick Pinault in the javelin (155-8), senior Beau Elder in the shot put (47-5), the 400-meter relay team and the 3,200-relay team.
"I was really happy," Spielman said. "We had a lot of kids that competed at KU, so we didn't run them in a lot of events. I thought the kids that competed ran and jumped well. I was really happy with our relays. I thought we did a really nice job yesterday."
On the girls' side, Baldwin won 12 events. The Bulldogs also scored 118 points to run away with the team title.
"Overall, it was our best performance of the season," Zuzzio said. "We had some times knocked down and some better throws. The warm weather had a little bit of play in it."
Several Bulldogs did set personal bests in different events. Freshman Allison Howard threw 113 feet in the discus, senior Ashley Tucker set a mark of 32-2 in the shot put and freshman Ramie Burkhart ran 49.5 in the 300-meter hurdles. The 1,600-relay ran 4:15.37 to win the event.
"Howard's throw in the discus was a new freshman class record," Zuzzio said. "We also ran our fastest time this year in the mile relay. Garcia also ran 60 in the quarter without anyone pushing her."
Both BHS teams will compete at the Girard Invitational Friday. The meet will begin at 3:30 p.m.