Arrowhead given nod from commission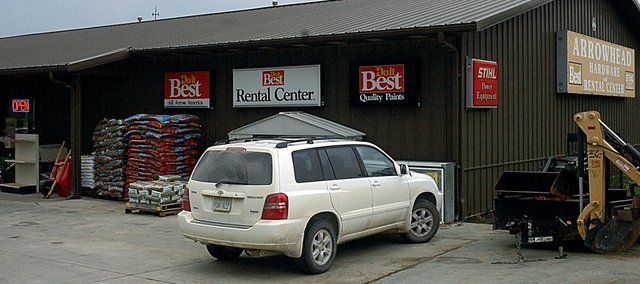 A packed house at Monday night's Baldwin City Council witnessed the strong feelings regarding the process to build a new hardware store here. But, a day later, problems were solved.
Gary and Robbie Lamoreux want to build a new Arrowhead Hardware Store at the entrance of FireTree Estates just north of their present location on North Sixth Street. They first brought the plans to the Baldwin City Planning Commission about a year ago. For various reasons, the project was still stalled.
The Lamoreux's architects, Brian Kemp and Paul Werner, expressed those concerns at Monday's meeting.
"The chain of events didn't happen like we expected," said Kemp.
That started a discussion that eventually spilled into harsh words between the architects and city staff. The architects were wanting the council to approve the site plan for the building without the planning commission's approval.
After a lengthy discussion, the motion was made to do that, but it failed 3-2. Council Members Ken Wagner and Doyle Jardon voted for it, but Council Members Ted Brecheisen Jr., Tony Brown and Amy Cleavinger voted against it.
However, they directed city staff to call a special meeting of the planning commission Tuesday night to look at the site plans again.
"We rely on the planning commission to do a lot of work for us," said Brecheisen. "I think it only fair that that goes back to the planning commission. If we don't respect our planning commission, what good does it do?"
Wagner expressed the feelings of most in the crowd and it brought a round of applause and cheers.
"I'd first like to thank the Lamoreuxs for wanting to invest in Baldwin City," said Wagner, drawing the crowd's reaction. "I don't understand why we started this project eight months ago and we're still having this frustration."
City staff and the architects told different stories. There was miscommunication and other problems. Tuesday's planning commission meeting, held after a building zone appeal hearing, was called to sort it out and it worked.
"The BZA meeting and then the planning commission went surprisingly well," City Administrator Jeff Dingman said Wednesday. "The BZA approved both of their variance requests. Everyone was in a cooperative spirit. As the planning commission met, there was an acknowledgement of breakdown in communications to this point, and then discussion was had, agreements were made and we should have a complete, final amended site plan for the hardware store by the end of today.
"There was a brief discussion at the end of the planning commission portion about how this process has been very difficult for both sides of the table, culminating in a circumstance at Monday's council meeting that should never have happened," said Dingman. "All agreed to that."
He said if all goes as planned, the council will have a special meeting at 4 p.m. Friday at City Hall to wrap everything up.
"I think that was their indication, that they would be willing to meet this week to get this all settled," he said. "Technically, at this point accepting the plat is a formality, it was the site plan that really was at issue. We should have a discussion on the site plan with the council, too, to show what the planning commission recommended and the owner agreed to."