Fire set to rejuvenate wetlands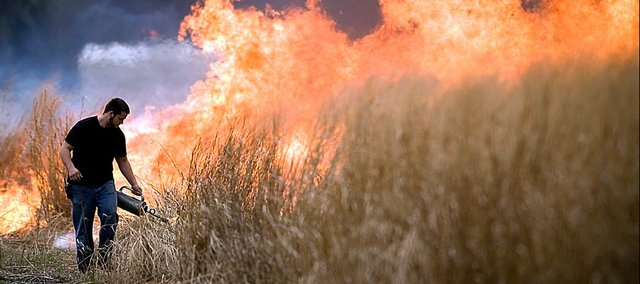 On Thursday morning, humans took over the duty that nature used to perform at the Baker Wetlands.
Professors and students from Baker University conducted a controlled burn on 200 acres of mostly prairie grass along the south side of the nature preserve.
"Many of these plants are helped by fire because fire was a natural phenomena on the prairie," said William Miller, assistant professor of biology at Baker. "Mostly it was from lightning strikes."
Miller and a few students majoring in wildlife biology worked with Roger Boyd, chairman of the biology department, in conducting the burn. The burn is done about every year in certain sections of the wetlands, which are mostly southwest of Haskell Avenue and 31st Street.
"When you burn the excess material, such as dead leaves, you convert it to ash carbon," he said. "It gets rained on and percolates into the earth as a natural fertilizer."
The fire caused a smoky haze in the southern Lawrence sky and sent an ashy smell into the air. Conditions were "just right" at that time. The fire burned itself out by afternoon.
"We probably smoked up the town pretty good," Miller said.
The Baker professors checked with police and fire departments before conducting the burn. They used portable kerosene packs to set the fires and then watched to make sure the burning didn't get out of control. Several portable water packs were available to wet down places that were not to be burned.
"It's really simple. We teach the kids how to do it," Miller said. "They get the experience."
The fire also drew the attention of the Coopers hawk, a species that otherwise isn't seen much at the wetlands.
"They seem to be attracted by smoke," Miller said. "Almost every time they burn, they see them here and other times they are scarce."