Track teams ready for Eudora,
KU

meets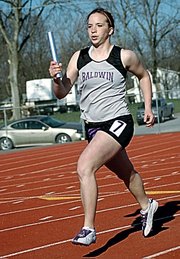 Two meets down and three more to go.
This busy 11-day stretch for the Baldwin High School track teams is nearly half over. Just as the Baker Relays and KT Woodman Invitational wrapped up, the BHS coaches are preparing for the next competition.
"We are just bang, bang, bang now," BHS girls' coach Ted Zuzzio said. "That's the sound of the gun firing off and the shutting of the bus door as we get off."
Although BHS will compete in three different meets during the next five days, most athletes will only participate in two of those. Baldwin will travel to the Cardinal Relays in Eudora today, the Kansas Relays in Lawrence Friday and Saturday and the Spring Hill Invitational on Monday.
The majority of the Bulldogs will participate at Eudora and Spring Hill, but a select few will compete in Lawrence. Wherever they compete, it's a busy time for the Bulldogs.
"We had a couple of weeks to get some practice in and now we're kind of using meets to work during the week," BHS boys' coach Mike Spielman said. "We will go again Thursday, Friday and Saturday."
Seniors Courtney Harris (javelin) and Heather Garcia will be representing the BHS girls' squad in Lawrence. Garcia will be running in the 800-, 1,600- and 3,200-meter races at the Kansas Relays.
The BHS boys' team will be sending its 1,600-, 3,200- and 6,400-meter relay teams. The runners competing will be freshman Carson Barnes, freshman Tony Weiss, junior Ryan Kennedy, junior Brad Canterbury, senior Dustin Schiller, senior Aaron Karlin and senior Kyle Smith.
Although the next week will be busy for the Bulldogs, their schedule will change back to one meet a week very soon.
"After Monday it starts to settle in again," Spielman said. "It's kind of crazy and hectic right now, but it definitely keeps you busy. Time flies by when you're busy."
On Tuesday, both BHS squads competed in their final home meet of the year at the Baker Relays. Out of eight teams, the BHS girls finished third and the boys placed fourth. Both coaches were happy with their team's performances.
"This was a make-you-smile meet," Zuzzio said. "Our kids showed up and competed today, which was very exciting. From the field events onto the track, we had different kids step up and run in different races and do a nice job."
Spielman felt the same way about his team.
"It was a home meet and we got a chance to get in there and compete," he said. "On the track, it's all relays, so we can mix some things up. The neat thing I like about the field events is that it's a relay, so you don't have to actually win it. Some of our groups did really well."
Both teams won several events and scored in many others. On the girls' side, BHS won the 2,000-meter steeplechase, 400-meter throwers' relay and the javelin relay. Freshman Allison Howard also won the discus (106 feet, 6 inches), but she placed second as a team with senior Ashley Tucker, who also placed third in the shot put (30-8).
Senior Courtney Harris won the javelin with a toss of 116-9. Three BHS girls were the only competitors in the steeplechase. They were junior Corinna Papps, sophomore Julie Hill and sophomore Connor Twombly.
"What was exciting today was our people on the track had their times go down, which is exciting, and the kids in the field events had their marks go up," Zuzzio said. "We had some performances in the high jump, discus and shot put, especially."
The throwers relay participants were Tucker, sophomore Taylor Brown, sophomore Chloe Gaylord and Howard. Freshman Ramie Burkhart finished second individually in the 300-meter hurdles (49.78) and third in the 100-meter hurdles (17.42). Junior Olivia Catloth placed fourth in the high jump with a season-best jump of 4-10.
The BHS boys were also successful in several events. The lone winner was junior Sam Beecher in the javelin. He threw a personal-best toss of 150 feet to win the event.
Fellow junior Logan Schiller also set a new personal record in the pole vault. He cleared 12-6 to tie for second place.
"Yeah, he went 12-6, which is really good," Spielman said. "Beau (Elder) threw the discus well and I think set a PR for himself. Sam also threw really well in the javelin."
Last Friday, the Bulldogs traveled to Wichita to compete in the KT Woodman Invitational. They endured below-average temperatures and gusty winds, but managed to set high marks in some events.
On the boys' side, Weiss began the day by placing sixth in the 3,200 run in a time of 10:24.36. Schiller finished third in the 400-meter dash by running 52.91.
"It went well. We had some really good performances," Spielman said of the meet. "We had some kids place well. I thought Tony Weiss did a wonderful job. He had like a 10-second PR in the horrendous wind. Then Dustin had a 50-second split in the 4x400. I thought our relays ran well."
On the girls' side, it was Garcia leading the way. She wasn't at Tuesday's meet because of illness. However on Friday, she won the 3,200 in a time of 11:57.54, but was defeated in the 1,600 and 800. She was nipped at the line in the 1,600, despite running 5:29.81. She also placed third in the 800 (2:25.45).
Howard finished sixth in the discus (109-10) and Harris was also sixth in the javelin (119-10).
Despite the few performances that medaled, Zuzzio wasn't pleased with the effort Friday.
"KT Woodman didn't go so well," he said. "As a coach, I thought our athletes were stunned by the blazing wind and cold weather. Many of them were running to finish, instead of running to place or win.
"We still have a lot of good things to come," Zuzzio said. "We learned a lot from KT Woodman. We have to learn to compete in all kinds of conditions."
Today's meet begins at 3:30 p.m. at Eudora with the finals for running events beginning at 6 p.m.