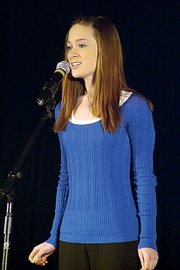 It was lights, camera, action in Baldwin City last Thursday night.
Maddy Roger, a junior at Baldwin High School, was the star of the night.
An ABC film crew set up downtown at Hickory Creek Barbecue to film Roger during the Open Mic Night. After her audition, Roger was selected as a semifinalist for ABC's High School Musical: Summer Session.
She sang two songs, Dusty Springfield's "Son of a Preacher Man" and Patsy Cline's "Walkin' after Midnight" in front of friends and family that packed the local restaurant. BHS senior Daniel Gomez played the guitar for Roger during the songs.
Roger and her parents weren't allowed to comment after the performance, because of television contractual agreements. But, Kit Harris, English teacher and journalism adviser asked Roger about it after the performance. She wouldn't say much, but she didn't need to.
"She had a huge smile on her face," said Harris. "I'm just judging from the smile on her face that it's a big deal. She's a very talented artist and she's a leader in whatever art it is, whether it's dance or something else. She's very well thought of for everything."
The High School Musical: Summer Session series debuts on ABC on July 20 and runs Sundays and Mondays for three weeks, then continues Mondays through mid-September.
Roger wasn't the only performer last week at the Open Mic Night. Several other local musicians entertained the crowd for a total of two hours. The first performers were Scott and Laurie Searl.
Some BHS students performed also that night, including Kayla Knoll, Sam Cooper and Brian Lamoreux. Knoll is a close friend of Roger and knows it's a big accomplishment.
"Oh, God, it's a really big deal for her because she's always wanted to do this," said Knoll. "She's really worked hard. I'm really excited for her."
As for the show, Knoll said it's popular, but it's more for others besides high school students.
"It's aimed to an audience younger than us," she said. "For pre-teens, it's a really big deal."
Hickory Creek spruced up the restaurant to hold the event that brought an ABC film crew to town. Between 50 and 100 people were on hand to watch the performances.