Forge wins prestigious Baker scholarship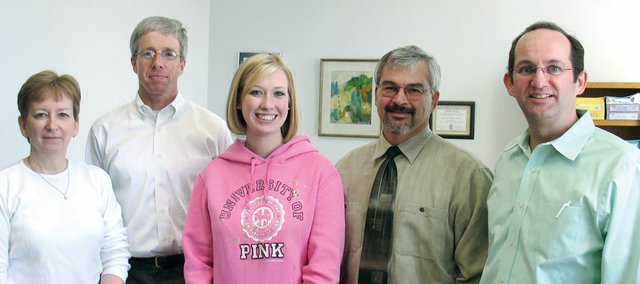 Baker University has named Chelsey Forge the winner of the prestigious William G. McGowan Scholarship, which will provide the Baker junior $18,000 for the 2008-09 academic year.
Forge, a 2005 Oskaloosa High School graduate, submitted a 1,000-word essay addressing the contributions of William G. McGowan to the business world and the telecommunications field. In addition to the essay, McGowan Scholar applicants must maintain a 3.0 grade-point average, have completed at least 64 credit hours, be of junior status and majoring in business or economics.
"I was very surprised and honored to be announced as the recipient of the William G. McGowan scholarship," Forge said. "I am looking forward to completing my research project in the fall."
As part of the scholarship program, Forge will be enrolled this fall in an independent study class. It will provide an opportunity for her to actively participate in collaborative learning experiences with peers and faculty.
"The focus of my consultancy is going to be on instituting a fraud examination course as part of the curriculum offered from the business department at Baker University," Forge said. "This will involve researching universities who currently have such a course, as well as the interest levels of students and faculty at Baker, what it would take for the University to become accredited in this area, and in what capacity it would be offered."
The McGowan Scholars program recognizes the academic achievements and excellence of students pursuing a major offered by an accredited business school. It is designed to encourage leadership ability, interpersonal skills, and a significant involvement in academic, campus and community activities. It also recognizes excellence of character, a spirit of innovation and entrepreneurial potential.
"She exemplified the spirit of the McGowan Program and she'll be the perfect person to begin a new tradition of scholarship at Baker," said Kevin McCarthy, chair of Baker's business and economics department and member of the selection committee.
Baker was eligible to apply for the scholarship program because its undergraduate department is accredited by the Association of Collegiate Business Schools and Programs. Other schools who have McGowan Scholars programs include Carnegie Mellon University graduate business school, Notre Dame, Villanova, Washington State and the University of Kansas.
The McGowan Charitable Fund has established the McGowan Scholar program to provide selected colleges and universities with scholarships to help students who wish to pursue a business education. It is based on the experience of William G. McGowan during his college days. Though admitted to Harvard Business School to study for a Master of Business Administration degree, he did not have sufficient funds to complete his studies. However, he won Harvard's Baker Scholars award that provided the funds necessary for him to earn his degree and launch a successful business career.