Bulldogs return to old form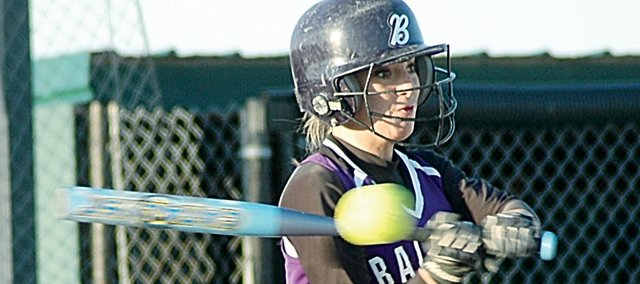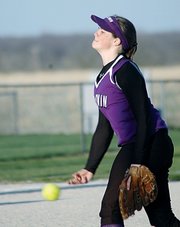 Louisburg — A two-week hiatus from the diamond wasn't about to stop the Baldwin High School softball team from regaining its early-season form.
After three rainouts and postponed games, the Bulldogs finally got back out on the field here Tuesday. Making up for lost time, they took out their anger on the opposing Wildcats. BHS (4-2) swept the doubleheader, winning 6-1 and 9-3.
"It feels good," coach Ginny Honomichl said after the sweep. "It has been a while since we have played. It seems like it has been a really long time."
For the players, the sweep helped them forget about their last outing, which was a sweep by Ottawa at home. That was exactly two weeks before Tuesday's contest.
"It was good to come back from the losses against Ottawa," junior Haley Finucane said. "It felt really good to sweep Louisburg tonight."
Finucane helped the Bulldogs with two hits and two runs in the first game. Also scoring runs that game were junior Tracie Weege, freshman Lindsey Roberts, freshman Morgan Burton and junior Kelly Baker.
BHS led 3-0 until the Wildcats scored their only run in the third inning. Then the Bulldogs secured the victory with a three-run sixth inning.
"We came out really strong," Finucane said. "It's nice to be back out playing again. We played well all around."
While the bats began to hit for the Bulldogs, it was the pitching of senior Callie Craig that held Louisburg in check. Craig pitched all seven innings with 13 strikeouts, four hits and zero walks.
"I pitched pretty well tonight," Craig said. "I had a lot of strikeouts. I am really tired. I am not used to having that many strikeouts so maybe it will help my confidence."
Tuesday's performance even impressed Honomichl, who is used to solid outings by the two-time All-State pitcher.
"I thought Callie did a great job," Honomichl said. "I'm sure we wore her down. When you haven't pitched in a period of time, it's hard to get back in there and do it. She had to pitch close to 12 innings, but that just gets her conditioned, too. She gets tomorrow off for state music. She did wonderful and it's great calling her pitches."
The Bulldogs' offense started to produce at the end of the first game and kept rolling into the second contest. They opened the second game with three runs from Finucane, Weege and junior Alex Zordel.
Louisburg tied the game in the second inning, but never took the lead. Baldwin rallied with two runs in the third inning. Zordel and junior Ariel Sanders each scored to help the Bulldogs take the lead back, which they never lost again.
It was Sanders' performance that had Honomicl talking after the game. She recorded three runs, one hit and one RBI in the second game.
"I'll tell you the one that really stepped up for us was Ariel Sanders," Honomichl said. "We put her in the five spot for the second game and she made contact and got runners moved around.
"Even our young players, Lindsey Roberts, Morgan Burton and MacKenzie Flory were making good contact or drawing walks," she said. "I'll tell you another thing, I thought we ran the bases well. We were pretty aggressive. Alez Zordel even went home on that passed ball. She said 'I'm not as slow as I used to be.' I could tell that."
Sanders scored again in the fifth and the seventh innings. Baldwin's final three runs came in the top of the seventh. Also scoring in the final inning were Baker and Flory. That sealed the 9-3 victory for BHS.
"It was good, because we hadn't played in a really long time," Craig said of the sweep. "It was nice to finally play and we came out strong tonight and played well. Everyone played well together and we had some girls step up when we needed them to. It was nice."
Craig struck out eight more batters in five innings of work during the second game. Although the pitching was outstanding, Honomichl was excited about her team's offense.
"The big thing tonight was our hitting," Honomichl said. "Everybody came through somewhere along the way. We had some big hits from unexpected people. We messed around with the batting line up in the second game and that seemed to do a little bit better than the first game. Unless you play, you really don't know what you need to be doing until you learn."
Finucane couldn't describe why the Bulldogs' offense was outstanding on Tuesday. She just said it was one of those days.
"We were just on tonight," Finucane said. "We have off days and on days and this was an on day. It felt nice."
The Bulldogs host Saint James at 4:30 p.m. today and travel to play at Paola Tuesday.