BHS

baseball team sweeps Louisburg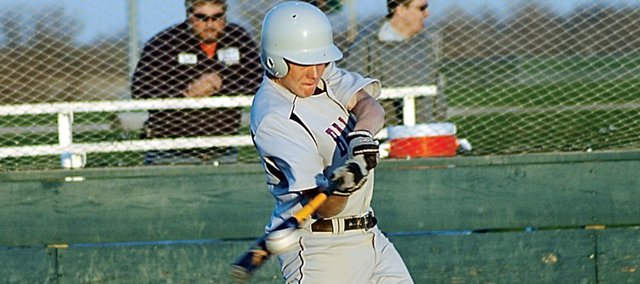 Louisburg — LOUISBURG - There's nothing quite like the first doubleheader sweep of the season. Just ask Josh Hoffman.
He helped the Baldwin High School baseball team dispose of the Wildcats here Tuesday night. BHS (3-5) claimed an 8-4 victory in the first contest, before run-ruling the Wildcats 13-2 in the second game.
"It felt great to sweep them and it felt even better to hit the ball," Hoffman said. "It's nice to be on the other end of the sweep. It turns it from being a baseball game into a fun game for us. It helps us go out and just have fun."
The BHS freshman was 5-for-9 from the plate Tuesday, while scoring five runs and adding three RBIs.
"I think this will help our confidence," BHS coach Brock Hartshorn said. "You take a freshman like Josh Hoffman, who had five hits, a couple of doubles and a triple, and that's our lead-off guy. When he starts producing like that, it sets the tone for the game."
After aiding the Bulldogs to its first sweep of the season, Hoffman was humble, saying he could have done better, even though his performance sparked the rest of the Bulldogs.
"I did all right, but I could do better," Hoffman said. "I have to be a little bit more selective with my pitches. Otherwise, I did all right."
As a team, Baldwin had 19 hits and 21 runs Tuesday. Also producing for BHS were seniors Michael Barnes and Zach Durr. Each player recorded four hits and four and five RBIs, respectively.
"Our bats came alive finally," Barnes said. "Our defense was solid, too. Our bats came alive, though, and that was the number one thing we were trying to do. Our coaches gave us a hard time after last game, so we just came out and hit the ball well."
Hartshorn was proud of both seniors for stepping up and helping the team win both contests. He was also happy to see Barnes break out of a hitting slump this season.
"Michael did hit the ball well and this was the first game that he has come back around," Hartshorn said. "Michael hit about .325 last year and hasn't the first six games of the year. He was kind of struggling, but I think he's kind of finding his groove right now and hitting the ball really well. He had a big three-run RBI in the first game that got us going.
"Zach Durr hit the ball well and again pitched well," he said. "Zach has only given up eight runs in 21 innings this year. If we keep him rested as much as we can, that's going to help us out."
Durr pitched the final inning of the first game and all six innings of the second contest. In the second game, he only allowed four hits and two walks, while striking out five.
Junior Jon Eddy started the first game and lasted three innings. He left while the game was tied 4-4 and freshman Justin Vander Tuig came in for the next trio of innings. Vander Tuig earned the victory, while allowing a solo hit and striking out five Wildcats.
"We came out and hit the ball really well right off the bat," Hartshorn said. "We scored four runs in the first inning of each game. Our kids pitched well and threw strikes. They kept us in the ball game in the first one.
"Jon Eddy pitched three innings and got us to our number one and number two pitchers," he said. "Once we were ahead in that one, we went with Justin Vander Tuig. Zach Durr completed that game and pitched all six innings of the second game."
Baldwin scored four runs in the first inning of each game. In the first game, BHS broke the 4-4 tie with three runs in the fourth inning and added one more in the seventh.
In the second game, BHS poured on the offense. After the 4-0 start, Baldwin added one more in the second, five in the third inning, one in the fifth and two in the sixth to earn the run rule.
"These were team victories," Hartshorn said. "We hit the ball well, fielded well and didn't walk anybody the last five innings of the first game. Our team may be coming around with our bats and, hopefully, we get good weather so we can continue with a little bit of momentum here."
Barnes enjoyed the sweep and the warmer weather Tuesday.
"Oh yeah, this feels nice, especially against Louisburg," Barnes said. "They are a little bit of a rival. It feels great. We have been playing in like 40-degree weather, so this was nice. It was nice to see the sun come out."
The Bulldogs travel to Garnett for a single game at 4:30 p.m. today and to Paola Tuesday for another doubleheader beginning at 4:30 p.m. They will also play several make-up games during the next two weeks.
"We are really looking forward to it," Hartshorn said. "With five games next week, we are going to have to rest our pitchers."